This is an archived article and the information in the article may be outdated. Please look at the time stamp on the story to see when it was last updated.
Indianapolis, Ind - An Indianapolis man says he was defending himself and his family's business when he opened fire on a group of burglars late Sunday night.
IMPD officers responded to Butler's Plants and Flowers, in the 2400 block of West Morris Street, just before midnight Sunday on reports of a shooting.  Officers arrived to find nobody had been shot, but the son of the shop's owner had fired several shots at a vehicle driven by the suspects.
The owner's son, who did not want to be identified, said he lives right next to the shop and caught two men and one woman in the act of loading 10 to 15 potted plants into a 2007 White Ford Focus.  He said the suspects appeared to be pretending to have car trouble along Morris Street, before driving the car onto the nursery's front lot.
The man said he approached the suspects, pulled a handgun and told them to stop.  At that time, he says the suspects started driving the car right at him.  He says he fired about five shots in the direction of the car, hitting the vehicle.  Seconds later, the car hit a pole next to the nursery and the suspects got out of the car.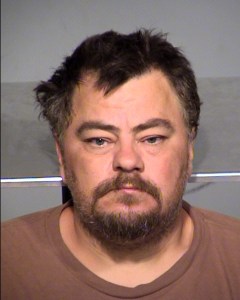 Two of the suspects ran off, but a third didn't make it far.  Officers located 38-year old George Key at a home around the corner on Sheffield Avenue.  Key had sustained a leg injury, presumably when the car crashed into the pole.  Key was taken to Eskenazi Hospital for treatment before being arrested.
"Preliminarily, Mr. Key was arrested for criminal recklessness with a weapon and burglary," said IMPD Sgt. Catherine Cummings.
Investigators were still working to get a fuller picture of exactly what happened Sunday night.
The charge of criminal recklessness with a weapon would indicate the car was being considered a potential weapon at the time of Key's arrest.  Cummings said detectives still need to conduct further interviews to determine what formal charges may be filed.  The Marion County Prosecutors Office placed the case on a 72-hour hold to give investigators more time to gather information.
"That gives the detective a chance to sit down with victims in a controlled environment when they've had a chance to calm down, kind of catch their breath from whatever they just experienced, and be able to give a more thorough, more full statement to the detective," Cummings said.
The two individuals who ran from the car were only described as a white male, 22 years old, and a white female, 21 years old.  Anyone with information about those individuals is asked to call IMPD, or Crime Stoppers.  That number is (317) 262-TIPS.