This is an archived article and the information in the article may be outdated. Please look at the time stamp on the story to see when it was last updated.
NEW YORK (March 16, 2016) –A part of radio history is soon to be dissolved. CBS Corporation announced Tuesday that the CBS radio division they helped create almost 90 years ago will be sold.
The 117 stations in 26 markets is the nation's second-largest radio chain, reaching almost 70 million listeners each week.
But the decision of CBS to end their involvement with radio comes as a bit of a shock to radio industry analysts.
"For advertisers, radio is just not sexy any more," said Adam Jacobson, a radio industry consultant and analyst, who made that comment to the LA Times Tuesday afternoon after CBS Chairman and Chief Executive Officer Lee Moonves  made his announcement that CBS would be ending their run in the radio business.
Moonves' reasons for CBS parting ways with the radio division mirrors much of the same problems the rest of the radio industry is facing; young adults spend more time listening to their digital music files, podcasts and subscription internet radio services such as Spotify and Pandora. That shift has prompted major advertisers like car dealerships, wireless phone companies and financial services firms, to steer more of their marketing dollars to digital platforms.
During the past eight decades, several TV stars got their start via CBS Radio programs, including Eddie Cantor, Al Jolson,  Bing Crosby, Jack Benny and Red Skelton.
But it was World War II that helped put CBS Radio on the map as their then radio division shifted from radio shows to a heavy news emphasis They sent foreign correspondents around the world to cover the war and other events and put an up and coming news reporter as their anchor, Edward R. Murrow.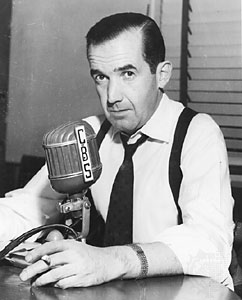 While radio was still a force to be reckoned with, television had been started which caused many of the radio personalities to shift to TV.
CBS Radio does not carry the debt loads of its major competitors, such as IHeart Media or Cumulus Media, so experts believe that the sale shouldn't be too difficult.
"There are a number of different options for doing this, and we'll be looking at all of them," Moonves said. "We will be prudent and judicious as we go and we'll take our time and make sure we get it done right."