This is an archived article and the information in the article may be outdated. Please look at the time stamp on the story to see when it was last updated.
INDIANAPOLIS, Ind. — A 5-year-old girl who was involved in a lawn mower accident in northern Indiana continues down the road to recovery.
In May, Italia McAllister was playing with her brother in the backyard when she got too close to a riding lawn mower. When the lawn mower backed up, Italia was knocked to the ground and her foot was caught in the blades.
Italia was airlifted from Elkhart to the Level 1 Pediatric Trauma Center at Riley Children's Health where the lower part of her left leg had to be amputated.
On Wednesday, the 5-year-old had a check-up at Riley Children's Health where she met with the surgeon who performed her skin graft surgery.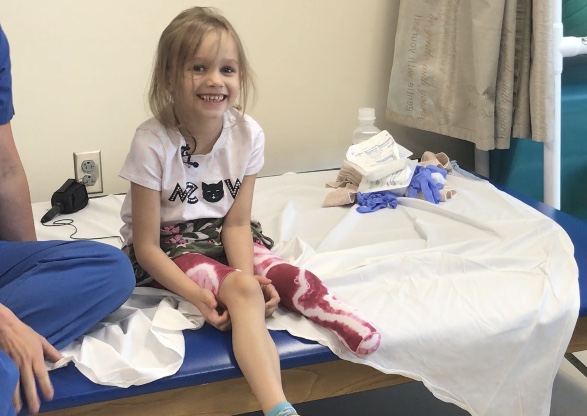 "I have a pretty busy practice with lawn mower injuries and they're complex injuries," said Dr. Patrick Gerety, Italia's plastic surgeon at Riley Children's Health. "They produce pretty devastating trauma. When I take care of my patients with lawn mower injuries, I expect complications, I expect it to require many surgeries and I would say that in Italia's case, this has gone about as smoothly as it could."
During the appointment, Italia was given customized compression pants to help with the healing of her leg.
Dr. Gerety said lawn mower injuries are some of the most devastating that he takes care of regularly.
"I would like all parents to be aware of how bad the injuries can be and take the extra step to keep their kids in a safe place when they're lawn mowing," he said.
Italia's mom, Robyn McAllister, said her daughter has become the face of lawn mower safety and hopes to make a difference by sharing her story.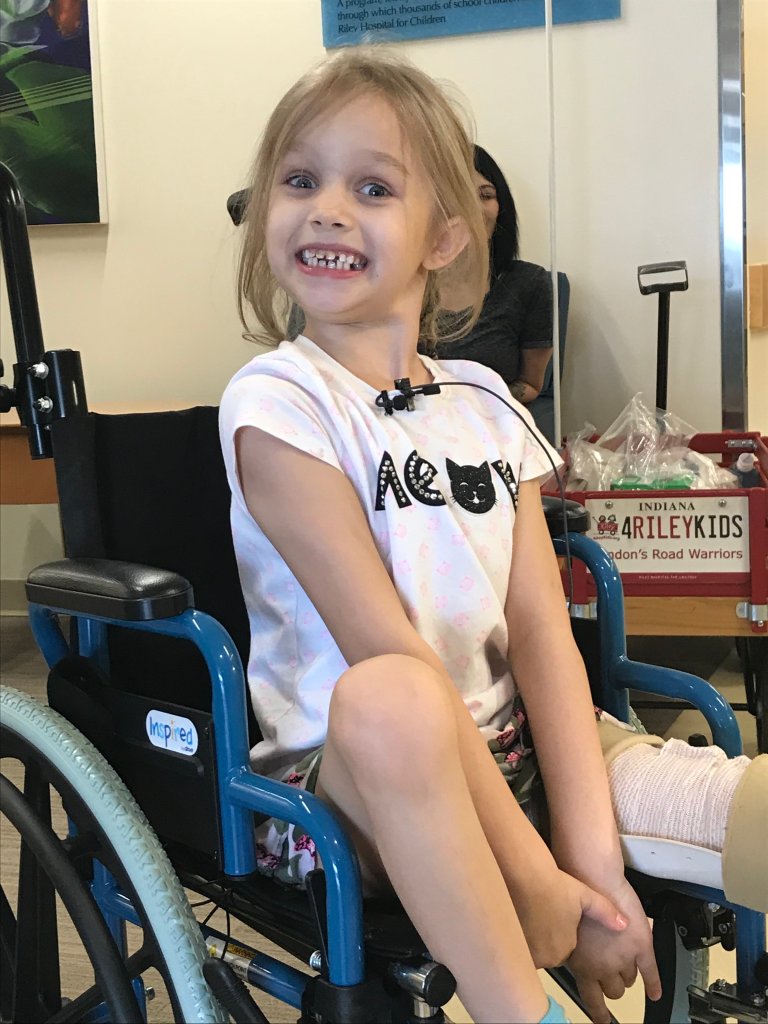 "Keep your kids inside while mowing the lawn because I never thought we would be here and we are," said McAllister. "It wasn't even five minutes that she was outside. It's crazy how quickly it happened."
On Friday, Italia and her family will head to Chicago where she will be fitted for a prosthetic leg. McAllister said Shriners Hospitals for Children reached out to her and offered to pay for Italia's prosthetic until she turns 18.
Italia graduated kindergarten last month and will start first grade at the end of August. Italia and her parents are hopeful that she will be walking by then.
"As along as you keep your spirits high like everybody has, it gets you through," said McAllister. "It could be worse."
WATCH: Italia is on the move and ready for her appointment at @RileyChildrens where she is getting personalized compression pants to help with her recovery. pic.twitter.com/hKjqmkLe9S

— Olivia McClellan (@OliviaMNews) June 20, 2018
According to Riley Children's Health, more than 4,000 children are injured by lawn mowers each year, sending an average of 13 kids to the ER every day.
Safety tips from Riley Children's Health:
Avoid lawn mowing lap rides (when an adult places a young child in their lap while driving)
Keep children far away from lawn mowers
Don't try to multi task (mowing your lawn and watching your child at the same time)
To donate to Italia's GoFundMe, click here.
Italia's mother, Robyn, says her sweet 5-year-old is still her happy, silly self. On Friday, the family will head to Chicago where Italia will be fitted for a prosthetic leg. pic.twitter.com/egVuDYqLgL

— Olivia McClellan (@OliviaMNews) June 20, 2018