This is an archived article and the information in the article may be outdated. Please look at the time stamp on the story to see when it was last updated.
INDIANAPOLIS, Ind.– Police arrested four people and seized drugs, guns and money after a pursuit.
On Tuesday just before 3:30 p.m., IMPD officers attempted to stop a car in the 1500 block of East Prospect Street. Police say the driver refused to stop.
Officers chased the car to the 2500 block of Depauw Road, where the driver and passenger jumped out and fled on foot into a residence in the 2500 block of Endsley Drive. The two suspects surrendered to police after a short time.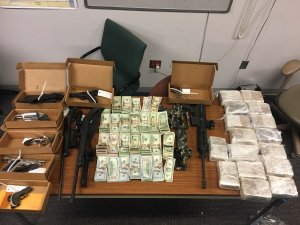 The vehicle had been reported stolen from Franklin earlier this month. After an investigation, 16-20 pounds of marijuana, 11 guns, two stolen vehicles and $91,000 in cash was seized.
Brian Woods, 18, Larry Gross, 41, and Robbie Bratcher, 52, were arrested, along with a juvenile suspect. IMPD says the Marion County Prosecutor's office will determine the suspects' formal charges.