This is an archived article and the information in the article may be outdated. Please look at the time stamp on the story to see when it was last updated.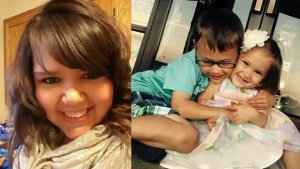 DARLINGTON, Ind. — Authorities in Montgomery County say a mother killed her two children early Thursday morning in the town of Darlington.
Officers were called to a home at 203 Madison Street in the town, which is located in Montgomery County northeast of Crawfordsville. The Montgomery County Sheriff's Department said a suspect was in custody during their initial investigation.
4 Fast Facts

Mother accused of killing 7-year-old son and 3-year-old daughter
Dispatchers received 911 call around 4:30 a.m. from home in Darlington
Police found children dead when they arrived
Mother stabbed herself in the neck and went to IU Health Methodist Hospital in Indianapolis
Montgomery County Sheriff Mark Casteel said dispatchers received a 911 call around 4:30 a.m. from 30-year-old Brandi Worley, who told them she'd killed her two children. Officers found 7-year-old Tyler Worley and 3-year-old Charlee Worley dead when they arrived. The children were killed in their bedroom, Casteel said.
He did not disclose a motive for the killings. Brandi Worley stabbed herself in the neck. She was taken to IU Health Methodist Hospital in Indianapolis for treatment and police have not yet interviewed her. Casteel said a detective would interview Worley as soon as her medical condition allowed.
"I just stabbed myself and killed my two children," Casteel said, quoting the phone call from Worley.
"I can't imagine the pain and the grief that these families are experiencing this morning," Casteel said, taking a moment to compose himself. "Please keep these families in your thoughts and prayers."
Casteel said the children's father was at home, asleep in the basement, and was unaware of what was happening. The sheriff said there were no previous calls to the home that would have indicated problems.
"This is extremely unusual," Casteel said of the children's deaths. "We are not used to dealing with things like this.
Sheriff Casteel said there was no history of violence in the home and neighbors never saw any signs of trouble, but Brandi Worley's family said her husband asked for a divorce this week.
"I can't fathom it. It's unreal to me," said neighbor Victoria Bussell.
"We're just left here in the community praying for the family," said Seth Stultz, a pastor with the Congregational Christian Church in Darlington.
As a church pastor in Darlington, Stultz says the deaths of two innocent children is painful for the entire community.
"It just kind of makes you shake your head. You want to know all the details and get all the answers, but often that's not what happens," said Stultz.
There is a community prayer service scheduled for Friday evening at the Congregational Christian Church on Academy Street. The service is set to start at 7 p.m.  The public is invited.
7-year-old Tyler attended Sugar Creek Elementary and the school will have a team of administrators, counselors, and resource officers to counseling and support for the students.
The school released the following statement in part:
"Today a support team including administrators, counselors, the school resource officer and teachers have been working to provide counseling and support for students.

"Any new loss can bring to the surface past feelings of grief. Even if students do not know the children involved with this situation, it can still bring up past feelings, grief, sadness, anger, etc. We know that grief is ongoing and does not affect any two people in exactly the same way. Please be extra vigilant and attentive to students' needs. Do not leave grieving children alone. We will do the same at school.

"The North Montgomery Schools family extends our heartfelt sympathy to this family. If you have concerns about your child, please do not hesitate to contact the school if you need assistance."
The Congregational Christian Church will hold a special prayer vigil Friday night at 7:00 p.m. to help members of the community grieve. It's open to anyone and everyone.
"We're just trying to be present tonight and do what we can to help the families involved," says Pastor Seth Stutlz.
Stultz, along with Darlington United Methodist pastor, Joe Sanford, will preside over the prayer service. Neither says they have an exact plan for the evening other than providing support.
"It's not something you have written up that you keep away in your drawer waiting for an occasion like this," Stutlz added.
Tyler and Charlee Worley/Photo provided by family

Tyler and Charlee Worley/Photo provided by family

Brandi Worley/Photo provided by family

Brandi Worley/Photo provided by family

Brandi Worley (left), Tyler and Charlee Worley (right)

Police at scene in Darlington on Nov. 17, 2016

Police at scene in Darlington on Nov. 17, 2016

Police at scene in Darlington on Nov. 17, 2016

Police at scene in Darlington on Nov. 17, 2016

Police at scene in Darlington on Nov. 17, 2016

Police at scene in Darlington on Nov. 17, 2016

Police at scene in Darlington on Nov. 17, 2016

Police at scene in Darlington on Nov. 17, 2016

Police at scene in Darlington on Nov. 17, 2016

Police at scene in Darlington on Nov. 17, 2016

Police at scene in Darlington on Nov. 17, 2016