This is an archived article and the information in the article may be outdated. Please look at the time stamp on the story to see when it was last updated.
The heat and humidity continues through Memorial Day! It will feel like summer and we'll carry a daily T-shower chance as well.  Highs this afternoon will be in the low to mid 80s with heat indices around 87.
A couple AM showers are possible today from Indy and points west.  These will be light and brief.  After 3 p.m. with some of the day time heating we'll see some pop up showers and storms later today and take that chance into the evening.
For Carb Day, a morning shower is possible and again with those pop up storms in the afternoon we could see some wet time at the track today, but definitely a lot more dry hours than wet at IMS today.
Here is the all important Indy 500 forecast: It will be a warm and humid on Sunday. We'll reach a high of 85 with heat index values near 90. After 3 p.m. there is a 20% chance for a pop up shower or storm.  It is possible that we get the entire race in dry, however we can't say that with 100% certainty, because pop up storms are hit or miss.  The coverage of the rain after 3 p.m. will be 20% of Central Indiana.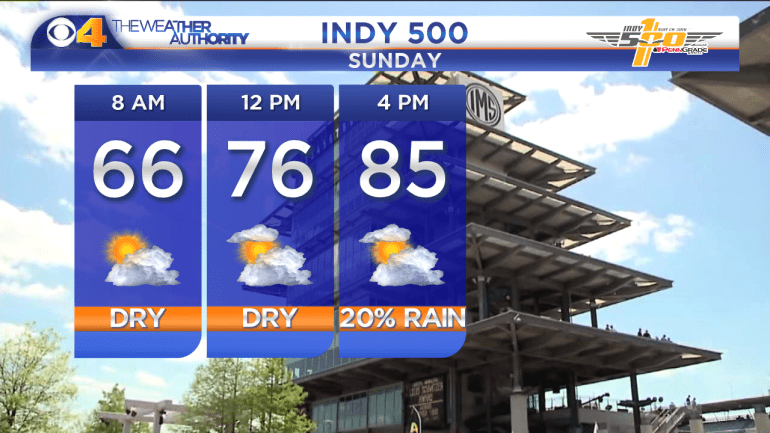 We'll carry the heat, humidity and storm chances into next week.