This is an archived article and the information in the article may be outdated. Please look at the time stamp on the story to see when it was last updated.
COLUMBUS, Ind.– Police arrested a woman suspected of driving while intoxicated Tuesday afternoon after she hit a motorcycle.
Officers responded the crash just after 2 p.m. at 25th Street and Wedgewood Drive. A Lifeline helicopter was requested immediately due to the severity of the motorcycle driver's injuries. The driver, identified as Jeffrey Welker, 60, of Anderson, was flown to Methodist Hospital in Indianapolis for fractures to his arm and leg.
Jennifer Welker, 56, was a passenger on the motorcycle and was transported to Columbus Regional Hospital for treatment.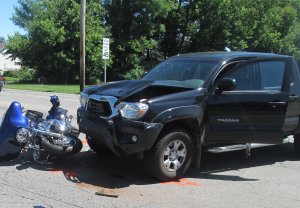 Elizabeth Blair, 39, of Columbus, was driving a Toyota Tacoma truck. Police say she showed signs of impairment at the scene. She told officers she was traveling east on 25th Street and turned north onto Wedgewood Drive when the crash occurred.
She was taken to Columbus Regional Hospital with minor injures and arrested after a blood test. Blair faces a preliminary charge of operating a motor vehicle while intoxicated causing serious bodily injury.