This is an archived article and the information in the article may be outdated. Please look at the time stamp on the story to see when it was last updated.
LEBANON, Ind.-- A 19-year-old man is facing 23 charges in connection with a fatal stabbing and attempted rape in Lebanon.
Zachariah Wright, 19, was held as a "person of interest" after the attack, which happened around 7 a.m. on June 18 at a home in the 500 block of Dicks Street. Maxwell Foster, 73, died after being stabbed and his wife, Sonja Foster, 68, was hurt during the incident.
On Monday, the Boone County prosecutor said Wright murdered Maxwell in a random act of violence, attempted to rape Sonja and set her on fire and chased her out of the home.
"This is everybody's worst nightmare," Boone County prosecutor Todd Meyer said.
The four knives used in the attack came from inside the victims' home, officials said. Blood was found throughout the home. There was no sign of forced entry, but officers noted a back door was open a couple of inches.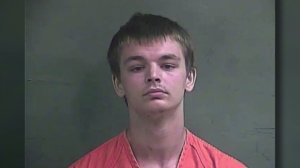 Sonja said she woke up to see the suspect in the bedroom doorway. He walked over to the side of the bed and began attacking Maxwell. Sonja said Wright continued to stab him as he tried to run away.
Court documents show he told Sonja that Maxwell was knocked out, not dead.  He then allegedly stated Maxwerll was "with the CIA and FBI and had killed thousands of people."
She said Wright then dropped his pants to show her he had an erection. He then asked where the duck tape was.
She managed to run away. He caught up to her and tried to set her on fire. She was able to escape again and provided police with a description of her attacker.
Officers initially detained Wright on an unrelated probation violation. He now faces charges including murder, attempted murder, burglary with serious bodily injury, rape, aggravated battery, criminal confinement, sexual battery, arson damage, theft, obstruction of justice and false informing.
"He come in at ten o'clock Sunday morning with nothing but a pair of blue jeans on and I had asked him what happened to his shirt and shoes and he said he burned them. I asked him why he said he got into a fight," Michael Boutwell, a man who says he shared his home with Wright, said.
DNA evidence linking Wright to the crime was found on a pair of jeans, the prosecutor said. He's also accused of trying to break into other nearby homes.
Wright has denied any involvement in the case from his jail cell.
"I've never done anything violent. I've never even been in a fist fight before, other than, you know, wrestling with my brother and stuff. I'm just not that type of person, anybody you talk to that knows me would tell you the same," Wright said during an interview.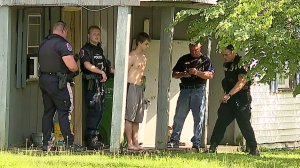 Due to the nature of the case, and several aggravating factors such as Wright allegedly committing the crimes while on probation, the State of Indiana will review this case to see if the death penalty will be sought, according to the Boone County prosecutor, who said the case is "everyone's worst nightmare."
Family members of the victims issued the following statement:
"On June 18th, 2017 our family and the entire city of Lebanon was rocked with the news of the home invasion and viscous attack of Max and Sonja Foster. As a result of one man's senseless actions, Max Foster was taken from us early on Father's Day morning. Sonja was left scarred and without her life partner of almost 50 years. Within hours of the crime, a multiagency effort resulted in the arrest of Zachariah Wright. A diligent and comprehensive investigation ensued and we were kept in the loop every step of the way. We are so thankful for the relentless efforts of Detectives Tony Bayles, Amy Dickerson and Jeff Nelson along with all law enforcement who assisted and brought us to this point. Also, we would like to thank Prosecutor Todd Meyer and his office for their diligence and the comfort they provided to us throughout the week. We take much solace knowing the right person is behind bars and will suffer the consequences of his actions. We would also like to thank the entire Lebanon community for their tremendous love and support during this extremely difficult time. As we move forward, we ask for continued peace in our community, prayers and respectfully ask for privacy while we continue to cope with the loss of Max."