This is an archived article and the information in the article may be outdated. Please look at the time stamp on the story to see when it was last updated.
INDIANAPOLIS, Ind.-- Indianapolis Yellow Cab says several of their cabs were broken into, causing thousands of dollars in damage.
The break-ins occurred Tuesday night at 3801 West Morris Street, just east of Holt Road, according to a police report. Yellow Cab says 13 cabs were broken into. Batteries and cameras were stolen and the company estimates the total damage to be around $6,000.
When Shop Manager Troy Stinson arrived there Wednesday morning, he noticed something odd about a van that was set to be repaired.
"It had no power. Popped the hood and found out the battery was missing," said Stinson.
That's when he walked outside and discovered the burglarized cars.
"This is two of the vans right here next to each other. Both with the battery stolen. The camera you can see where the camera was glued to the windshield. The camera is missing and some of them he just ripped the wires," said Stinson.
The company released surveillance photos showing a suspect and his car.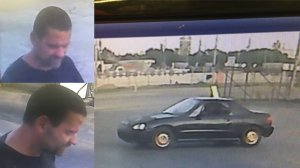 "With this happening and with it being on camera and happening during daylight hours is pretty surprising," said Stinson. "Luckily right now we got a few cabs sitting idle. Could use a few drivers right now. But we have back up cabs to put people in."
Those quick repairs should have them back in business by the weekend. But the Indianapolis Metropolitan Police Department has a few simple reminders for businesses.
"One thing to always think about always make sure your area is well lit. Make sure if you're available to have video. Video not that you can just see in the day time but also at night time. If you have a valuable product or anything you need to keep safe make sure you lock it up. If you have an area that you can fence off that would be great too. Any little bit helps," said IMPD officer Genae Cook.
Meanwhile, Stinson has a message to the person responsible.
"I just hope he gets what's coming to him," he said.
Anyone with information can submit an anonymous tip to Crime Stoppers at 317-262-TIPS (8477).