This is an archived article and the information in the article may be outdated. Please look at the time stamp on the story to see when it was last updated.
VERSAILLES, Ky.– An Indiana man who was found not guilty by reason of insanity in the fatal stabbing of a 6-year-old Kentucky boy received a 20-year sentence for assault charges related to the death.
Police say Ronald Exantus, a dialysis nurse, drove from Indianapolis to Versailles, Kentucky, in December 2015, broke into a home and stabbed 6-year-old Logan Tipton to death with a knife he'd found at the house. The boy's father held Exantus down until police arrived.
After a 6-day trial in March, jurors found Exantus not guilty by reason of insanity of murder and burglary. They jury found him guilty but mentally ill on assault charges. Prosecutors had sought the death penalty.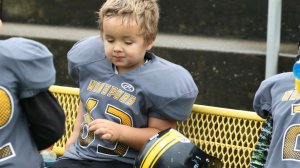 Defense attorneys admitted that Exantus killed the little boy, but they argued that he suffered from mental illness and was not acting rationally. He left Indianapolis without baggage, a weapon or a plan, and drove to a place he'd never visited before, they said in court.
The jury recommended a 20-year sentence for the assault charges.
On Tuesday, Exantus was sentenced to 20 years– 10 years each for two counts of second-degree assault and one year for fourth-degree assault. The sentences will run concurrently, WKYT reports.