This is an archived article and the information in the article may be outdated. Please look at the time stamp on the story to see when it was last updated.
CUMBERLAND, Ind. – Police in Cumberland believe a 14-year-old shot and killed a man at a Dollar General store this week.
Investigators believe the 14-year-old juvenile and 18-year-old Steven Sheppard were robbing the store Monday night when the younger teen shot and killed Gregory Raley.
"I love him to death and he'll be missed by everyone. It's so tragic," said family friend Chad McQueen.
A probable cause affidavit explains when Raley realized the store was being robbed, he walked to the door with his hands up and confronted Sheppard, asking if his fiancee was okay.
After Sheppard took off running, prosecutors say the 14-year-old armed suspect shot Raley in the chest.
The 14-year-old is named in court documents as "E.C." since he is a juvenile.
According to the probable cause affidavit, E.C. came out of the business, extended his right arm toward Raley and fired a single gunshot as Raley was backing away.
Raley was pronounced dead just before 9 p.m. Monday despite efforts to save his life.
Raley and his fiancee were raising a 9-year-old girl. That girl witnessed the shooting and watched as her mother and police tried to save Raley's life.
"He was selfless. He was caring. He was making a family and would do anything for them," said Raley's friend Jamie Norris.
Jamie and Chad both grew up with Raley in New Castle and were friends for decades. They say Raley loved his family so much, he died trying to protect them.
"When he found out what was going on. He wanted to protect her. He didn't think about himself," said Norris.
"You know family was always a big part of him growing up. Anybody close to him, he always stuck up for them," said McQueen.
The fatal robbery marked the fifth Dollar General robbery in Marion County over three days, although it's not clear if the cases are connected.
Court records show police arrested Sheppard for stealing from the same Dollar General last month. The courts ordered him to stay away and he was banned from the store.
CBS4 looked into the criminal history of the 14-year-old, who we're choosing not to identify because he's not yet facing charges as an adult. Police reports show he was arrested for several crimes dating back to when he was 11 years old.
Raley's friends hope both teens face trial as adults.
"They should absolutely be tried as an adult. You took someone's life away," said Norris.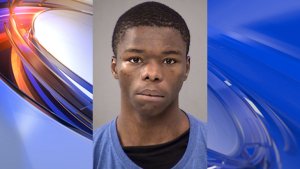 After the shooting, police quickly arrested the two suspects. While searching the area, they found Sheppard walking on Washington Cove Way and detained him. They also spotted a parked car and saw E.C. get into the back seat. Officers approached the vehicle and asked E.C. and two other men to get out.
The two others inside the vehicle exited and were taken into custody for questioning; E.C. didn't get out and officers had to physically remove him. They found a handgun in the waistband of his pants.
During the robbery, police said E.C. went into the store while Sheppard stayed outside. E.C. jumped the counter, put a gun to a woman's neck and ordered her to open the cash register. Police found E.C. with cash and rolls of coins, according to court documents.
E.C. was booked on preliminary charges of murder and armed robbery. Sheppard was booked on a preliminary charge of robbery. The two men detained for questioning were released. They told police they didn't know E.C. or Sheppard.
The 18-year-old suspect appeared in court Thursday for his initial hearing, but the judge granted prosecutors continuance. They have until Friday morning to determine the official charges.