This is an archived article and the information in the article may be outdated. Please look at the time stamp on the story to see when it was last updated.
PENDLETON, Ind.– Police arrested a correctional officer at the Pendleton Correctional Facility after allegedly finding drugs on him.
On May 25, Joshua Myers reported to the jail for his shift. He submitted to a shakedown procedure and other correctional officers found contraband concealed on him.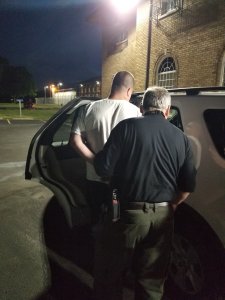 Myers was taken into custody and transported to the Madison County Jail on a misdemeanor charge of trafficking with an inmate and a felony charge of official misconduct.
"Thank you to our Investigations and Intelligence staff who work long hours to deter the introduction of contraband into our facility.  The trafficking of contraband with the offender population by one of our own is disconcerting and his actions should reflect poorly on the individual and not on the profession.  While this individual has degraded himself and endangered the lives of every person working inside the walled facility, I respect my hard working staff and we will continue to clear the facility of those who do not share our commitment to public safety," said Warden Dushan Zatecky.