This is an archived article and the information in the article may be outdated. Please look at the time stamp on the story to see when it was last updated.
We are going to hang onto the clouds all day today, but the rain showers will slowly clear to the east by this afternoon. Temperatures will run a solid 10 degrees below average with highs in the mid-60s this afternoon.
By noon today, most of the showers will be east of U.S. 31.
By the 5 p.m. drive most of the showers will have moved into Ohio and we'll be left with some clouds.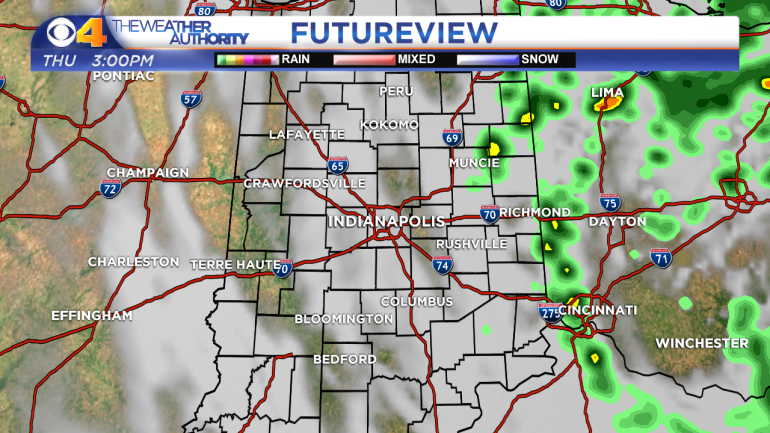 We'll see a lot of dry time to enjoy Carb Day on Friday. Temperatures will be significantly warmer. Looking ahead to Legends Day and your Indy 500 forecast we'll have the chance for spotty T-showers both days with temperatures near 80.
A good chunk of central Indiana is in a SLIGHT risk for severe storms on Saturday. The wettest part of the weekend will be Saturday night into Sunday morning. That will also be the stormiest.
On Sunday, we'll have T-storms around during the morning. The green flag drops at 12:19 p.m. for the 101st running of the Indy 500 and while there is an isolated storm chance during the afternoon, temperatures won't be too hot and we'll have a lot of dry hours to enjoy during the afternoon.
On Memorial Day a few isolated PM storms are possible, but we'll have more dry time than wet.