This is an archived article and the information in the article may be outdated. Please look at the time stamp on the story to see when it was last updated.
INDIANAPOLIS, Ind. — A cell tower worker, hurt and waiting for help, waited too long, according to the Indy man who called 911.
Adam Lickliter still has many questions about his experience, which CBS4 tried to answer.
It all began Monday afternoon when Adam Lickliter was eating lunch with family at Canal Bistro on Guilford Avenue. Just after 12:30, they heard screams.
"All of a sudden, we just heard a man yelling rescue, time and time and time again," said Lickliter. "I didn't hear it, but the few that were with me actually heard him yell, 'Help! My arm! I'm hemorrhaging!'"
When he left to check it out, he says he saw a utility worker hanging from ropes on a cell phone tower and it didn't appear his coworkers could easily get to him. So Lickliter called 911.
When he did, he described hearing a hold message that sounded like this:
The message is what Marion County callers hear sometimes when a dispatcher is unavailable.
A CBS4 Problem Solvers investigation found low salaries have led to unfilled positions at the 911 center and thus wait times for callers outside of extraordinary weather.
That investigation led to a temporary plan now in place to raise pay, using excess state 911 board fees. But even if that solves the problem, it will take some time before the chairs are filled, meaning more like Lickliter may continue to face hold times in the middle of a sunny day.
"At the same time, I'm walking across the street and I'm worrying about this guy who is hanging ten stories high and wondering what is going to happen," said Lickliter.
Lickliter said it took about a minute to connect with a dispatcher, which the Marion County Sheriff's Office is currently investigating. Lickliter says he told them what was happening, then was transferred to a fire dispatcher to tell them everything all over again.
"I wasn't expecting that at all," said Lickliter.
Lickliter says while it wasn't unexpected for the dispatcher to ask for his location, when he seemed uncertain, he thought they'd be able to quickly use his phone to figure it out.
"Being frantic for the whole situation and for the individual, I was uncertain and said, 'I'm in Broad Ripple on the rainbow bridge.'"
When the dispatcher indicated they didn't know what that was, Lickliter asked people around him. In the confusion, he ended up giving them the wrong intersection—Westfield Blvd and Winthrop, instead of Westifeld and Guilford.
"I was also thinking, if I'm on a cell phone and this is 911, shouldn't the dispatcher have GPS access to where I am?" remembered Lickliter.
A different investigation by our newsgathering partner, CBS4, showed that's not the case.
If a caller is able to give their location, dispatchers prefer to rely on that. Calling 911 isn't like calling Uber. Dispatch centers get your location from the carriers, which don't always provide reliable information. In fact, it can be hundreds of feet or even several miles off where you're actually standing.
It's a problem the FCC is pushing carriers to fix and some independent companies are also working on separately.
CBS4's inquiry to the MCSO, also included a request for the location information the dispatchers received from the carrier, in case there was an issue with the data received.
Lickliter also expected a quicker response from fire crews and medics, since the cell tower being dismantled is right next to Station 32.
Rita Reith, a spokesperson for the Indianapolis Fire Department, says the crew at Station 32 had actually been relocated at the request of the workers' company, Crown Castle earlier in the day.
In an email, Reith explained the relocation saying, "Crown Castle stated that this was for crew safety in case the tower disassembly did not go as planned. IFD relocated Engine 32 to a nearby station from the hours of 8-4 and Engine 32 remained in service the entire time."
One of the workers' coworkers was able to get to him with a crane before IFD arrived. Then, medics took over treatment before transporting the worker to the hospital.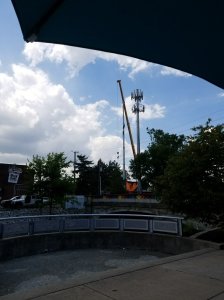 A representative for Crown Castle, issued a statement that the worker's "injury is not severe" and that Crown Castle "is committed to the safety of our contractors and employees".
"It makes me grateful," said Lickliter on learning the worker's condition, "but it doesn't change my opinion that we need more forces behind the telephone line to allow us to have that comfort factor."
In the end, the responses seemed to indicate what happened to Lickliter is best described as a series of unfortunate events.
Lickliter says at the time, he would've had no way to know that the relocation of the fire crew for the cell tower workers, on top of the delay he says he had when calling for help, wouldn't end up endangering any lives.
"It's ten minutes of an individual hanging upside down and possibly, I mean, nobody knew what was going on," said Lickliter.