This is an archived article and the information in the article may be outdated. Please look at the time stamp on the story to see when it was last updated.
UPDATE (Nov. 11, 2019) — The Fair Housing Center of Central Indiana announced a settlement in its lawsuit against Marshall Welton and Casas Baratas Aqui, or CBA. Neither side admitted fault or liability. As part of the settlement, Welton and CBA agreed to pay $395,000 to plaintiffs in addition to attorney's fees.
The settlement included a consent decree which modifies the practices of CBA, requiring new policies including better recording of land contracts, posting and disseminating of fair housing information, training of employees, and presenting of documents in another language if a deal is made through an interpreter.
"The Fair Housing Center is not against land contracts, we just want to make sure that they abide by the law," Executive Director Amy Nelson said.
Lawyers for Welton provided a statement, saying that due to a recent Indiana Supreme Court ruling in regards rent to own deals that does not allow repairs to be passed on to a buyer/tenant, CBA is changing how it rents and sells homes.
"The companies known as CBA are in the business of providing affordable housing in central Indiana. They have been committed to not just providing, but promoting home ownership and the opportunity for home ownership to underserved communities. … We feel everyone should have an equal opportunity and not be regulated out of the system because of race or residency status," the statement said in part.
Original story:
INDIANAPOLIS, Ind. — A CBS4 Problem Solvers investigation found companies pouring millions of dollars into some of the city's least affluent neighborhoods, but spending very little of that money to fix them up.
In some areas of the city right now, you can find yourself competing for a newly renovated home in a hot market, but in other areas the reality for families looks much different.
CBS4's Jill Glavan spent months talking to some of those families, tracking down city data, and piecing together a system you may know nothing about. Housing experts say that over the past decade, particularly since the housing crisis, the system has become a popular way to buy homes.
It's called rent to buy, or lease to own, and it involves contracts with options that require tenants to gradually put down deposits in addition to their rent, eventually allowing them to buy a home. The concept is not new, but city officials and fair housing advocates say it has become more prevalent across the city in recent years.
CBS4 Problem Solvers looked into one group of companies in particular, which operates under the name Casas Baratas Aqui, meaning "Cheap Homes Here" in Spanish.
Mitch Gore, the city's Manager of Nuisance Abatement, said the group has been on his team's radar for quite a while.
"I'd say they're top five in terms of land owners in the city," Gore said. "We call them high impact landlords because of the level of services they use."
Despite that distinction, the city has allowed the group to buy up nearly 1,000 homes over the past four years. CBS4 Problem Solvers used the city's own data to track those purchases. We found that in some neighborhoods, they own a home on virtually every block.
[protected-iframe id="0a65e4f21d452278e0feffed0a7936e2-74025032-56073892″ info="https://www.google.com/maps/d/embed?mid=1GlGf95Jj_3NjRODKc932k0iegdv6tvBh" width="640″ height="480″]
County auctions offer up hundreds of cheap properties
Records show that Marshall Welton, a man familiar with the city's real estate market, runs Casas Baratas Aqui. Welton's name is tied to 13 different companies, all of which are associated with the group.
Welton buys many of the properties at Sheriff's Sale auctions the county holds each month, in which they sell foreclosed properties in a competitive environment at the city-county building downtown.
CBS4 Problem Solvers found that between January 2017 and May 2018, Welton spent nearly $10 million at those auctions.
According to documents filed with the county, that money came at least in part from large national lenders like Corevest and American Homes 4 Rent. Those lenders signed off on millions of dollars in loans tied to mortgages at some of the company's homes.
City officials said there are mechanisms in place to stop companies from buying at auctions, but those mechanisms have never been used to stop Welton from bidding at the monthly auctions.
Tracking tenants' concerns over rent to buy deals
Josh Bartley represents one of the most extreme cases CBS4 Problem Solvers encountered.
Bartley couldn't get a mortgage and said he needed a home fast, so he responded to a Facebook advertisement for Casas Baratas Aqui. He ended up at an office on Meridian Street, meeting with Welton.
"We went in and they handed us a sheet of homes that you could go look at," Bartley said.
Bartley said Welton did not take him to see any homes in person, and he opted to simply choose one of the cheapest off the list, instead of going to inspect it alone. He said he took Welton at his word, sight unseen.
"He just kept saying, 'No, the home's good. I've been in it, I've checked it. It needs to be cleaned,'" Bartley said.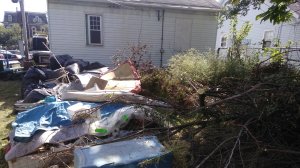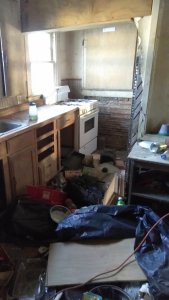 After he signed a lease with an option to purchase the property, Bartley found it in much worse shape than he had imagined. The house was gutted, full of trash, and had no working utilities. CBS4's review of city records shows it had been abandoned prior to its purchase.
"I'm still cleaning up trash out of here," Bartley said when CBS4 visited the home in March.
Under the contract Bartley signed, he was told the house came in "as is condition," and that he was "solely responsible for compliance with building and health code laws." Thinking of himself as a soon-to-be-homeowner, Bartley started spending his own money to fix the place, even though he was also required to pay $800 per month in rent. At one point, the health department filed a lawsuit against Bartley, thinking he was the property owner. The lawsuit was quickly dropped.
In August, Welton's company took Bartley to court for non-payment of rent. He moved out of the home and is no longer under contract with Casas Baratas Aqui. The two parties are due in court later this month for a damages hearing.
CBS4 Problem Solvers talked with other families across the city as well, enlisting the help of a translator as many of the company's tenants speak primarily Spanish. Quite a few people said that they were scared of retribution and didn't want to be identified.
"We just figured that, you know, we (were) responsible for everything," one tenant said.
"We had a lot of problems with them," another tenant said.
More than one tenant told CBS4 that they asked Casas Baratas Aqui to fix major issues in their homes, and the company did the work, but then added upwards of $10,000 to the purchase price. Bartley's contract did include a provision which allowed such an increase.
"The price is pretty high and to be honest, there's a lot of work to be done on this house yet," another tenant said.
Contract out of line with state law, attorney says
CBS4 Problem Solvers asked real estate attorney Rob McNevin to look over Bartley's contract, and he said that the deal did not appear entirely legal.
"If someone asked me to put that contract together, I would refuse to do it," McNevin said.
McNevin has no connection to this case and spoke as an independent expert. He said the rent to own deals he usually sees give you up to five years to buy a property. Bartley's deal gave him only one year.
The state of the property also concerned McNevin.
"The statute makes it clear that they must deliver a clean and safe unit," McNevin said.
Under Indiana law, landlords must maintain basic utilities, including electrical, plumbing, heating and air, and sewer. Bartley said none of those utilities was working when he moved into the home. Other tenants told CBS4 they also did not have functioning utilities and, in some cases, they fixed them on their own.
CBS4 Problem Solvers goes searching for answers
City data obtained by CBS4 Problem Solvers in May shows that over the past four years, the Department of Business and Neighborhood Services has charged more than $380,000 in fines at Casas Baratas Aqui properties.
"Especially for one entity, that's quite a bit," Gore said.
As of May, the various companies tied to the group also owed the Marion County Health Department nearly $20,000 and the Marion County Treasurer's Office $22,000 in delinquent taxes.
Still, no action has been taken against the companies or Welton. After CBS4 requested data from multiple departments, Gore said he had been meeting with those departments about Casas Baratas Aqui.
"No option within the law is off the table right now," Gore said.
Since that wasn't happening quickly, we went in search of our own answers.
After attempting to speak with Welton and his lawyer for weeks, CBS4 Problem Solvers showed up at an auction with a camera, hoping to talk to Welton about his businesses. After seeing the camera and continuously looking over at it, Welton left the auction before it started and did not return.
That's when Welton's new attorney, Doug King, stepped forward. Welton hired King to represent him in a federal lawsuit filed in April by the Fair Housing Center of Central Indiana. The lawsuit accuses Casas Baratas Aqui of more than a dozen violations of the law, focusing in particular on the company's Hispanic and Spanish-speaking clients.
In a response to the lawsuit, King and other attorneys argued that the Fair Housing Center of Central Indiana damaged Welton's business and defamed him.
"Everybody gets the same documents and they're all designed to do one thing, put somebody in a home when they couldn't otherwise afford it," King said.
King said that he couldn't speak to the money owed to the city, but that he believed Welton was out to do good in Indianapolis.
"I sincerely believe and he sincerely believes what he is doing is good for the community because it's making these people who are coming to our community feel at home," King said.
King did admit, though, that the lease given to Bartley and other homeowners was not in line with Indiana laws. He said Welton's other lawyers are changing it.
"The lease doesn't comport with the statute and that's why the lease is being replaced," King said.
Moving forward with rent to buy contracts
Despite the city's lack of action, Gore said he is concerned about the boom in rent to buy properties and what they're doing to the city's neighborhoods.
"They sell people on the American dream, right? And it really turns out to be a nightmare," Gore said.
Experts tell CBS4 Problem Solvers that if you can't get a mortgage and want to consider a rent to buy deal, there are steps you can take to make sure you get a good deal. First of all, you should inspect a property inside and outside before you sign anything.
McNevin suggested you look for a real estate agent to negotiate your contract if you can't afford an attorney, and also consider hiring a home inspector to look over the home.
If you have a case you'd like CBS4 Problem Solvers to consider, contact us at 317-677-1544 or ProblemSolvers@cbs4indy.com.