This is an archived article and the information in the article may be outdated. Please look at the time stamp on the story to see when it was last updated.
Indiana's Very Own CBS4 will once again partner with CarmelFest for a free, two-day Fourth of July festival.
The event will include live music, games, and a KidZone for children. Fans can also stop by the CBS4 booth to meet your favorite members of our team and for a chance to win Colts tickets!
The Centier Bank Fourth of July Parade will feature some of your favorite CBS4 personalities, alongside our WTTV team and the Colts cheerleaders. Our legacy team includes Sammy Terry, Cowboy Bob and Janie from "Popeye & Janie."
CarmelFest 2016
Location: Carmel Civic Square Carmel, IN 46032
Sunday – July 3rd
Outdoor festival: 2:00 p.m. to 10:00 p.m.
Monday – July 4th
Centier Bank CarmelFest Parade: 10:30 a.m.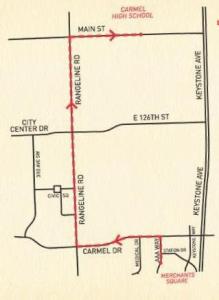 Outdoor Festival: 12:00 p.m. to 10:00 p.m.
Fireworks: 9:45 p.m.
CarmelFest Highlights
Two-day outdoor celebration with entertainment
Market Place booths, festival food & craft beer tent
KidZone with rides, games & petting zoo
Free entertainment on 3 stages
CarmelFest talent vocal competition
"Wright Brothers" band performance on July 3rd
"Guitars & Stars" showcase of the area's elite guitarists on North Zone stage July 3rd
July 4th Carmel Symphony Orchestra "Star Spangled Salute" - conducted by David Bowden
Centier Bank CarmelFest July 4th Parade with Championship Carmel High School Girls Swim team as Grand Marshals – Saturday, July 4th 10:30 a.m.
"BANG! Ultimate Fireworks Experience" VIP rooftop party
Spectacular Fireworks display on July 4th- 9:45 p.m. synchronized to music on Carmel High Station WHJE 91.3 FMClick here for more information.