This is an archived article and the information in the article may be outdated. Please look at the time stamp on the story to see when it was last updated.
INDIANAPOLIS, Ind. — A CBS4 Problem Solvers investigation uncovered major flaws in the state's system that handles sexual assault, particularly when it comes to the testing of rape kits.
Since state lawmakers and law enforcement leaders released the first-ever statewide audit of kits last December, they have repeatedly pointed to a "net" number of untested kits as 2,560, in some cases even pointing out that the number was lower than expected. CBS4 discovered that it is, in fact, lower than expected, because the actual number is thousands more.
Additionally, CBS4 has learned that Indiana's statewide Sexual Assault Response Team, known as a SART, has yet to meet in 2018. That group is tasked with delivering a new report this December, which will explore what it would take to implement a tracking system for kits across the state.
What is a Sexual Assault Kit (SAK), also known as a rape kit?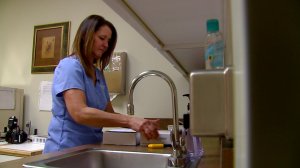 CBS4 Problem Solvers traveled to the Fort Wayne Sexual Assault Treatment Center, where we met Joyce Moss. Moss is a Sexual Assault Nurse Examiner, known as a SANE, whose full-time job is to collect rape kits from victims and hand them over to police. The center takes in all patients within 15 counties surrounding Fort Wayne.
The kits themselves have been designed by stakeholders in Indiana. They include various instructions, bags, and tools, like swabs, that a nurse uses to collect possible evidence, including DNA evidence, from the body of a sexual assault victim.
"I have been in the room with a patient up to six hours that had extensive injury," Moss said. "It is dependent on the number of injuries, and sometimes the patient's comfort level."
In Indiana, as long as a victim is not injured to the point of being unable to consent, it is their choice whether or not to submit to an examination which results in a rape kit. Victims are also given the choice to report under the "Jane Doe" law, which allows them to remain anonymous. A "Jane Doe" victim, under state law, has a year to decide to change their mind and pursue their case with police.
What can feel medical, and sterile, is far from it. The kits represent people — sexual assault victims and survivors — like Eileen Potenza and her daughter Alli.
"It was violent, it was brutal. It was very demeaning," Eileen Potenza said of the attack on her family.
In 2013, six men broke into the Potenza home in Indianapolis and terrorized the family for two hours. Alli was sexually assaulted by multiple men. Eileen was shot twice trying to escape, forced to drive to an ATM, and sexually assaulted in her car.
"I remember waking up in a room full of people…in my hospital room," Potenza said.
When it was over, a SANE collected a rape kit from Potenza's daughter. Police quickly caught the suspects and they were later convicted. In the years since the attack, Potenza said she and her daughter have talked about the great treatment they received.
"We were kind of a high profile case. There was a lot of news about this, and maybe it was not typical of the way it always happens," Potenza said.
Unknown number of rape kits collected every year
CBS4 Problem Solvers found Potenza's assessment to be true. Across Indiana, hundreds, if not thousands, of rape kits are being collected each year, but no one can say exactly how many.
"It's just kind of a mess," said Laurie Gray, SART Coordinator for the Indiana Coalition to End Sexual Assault.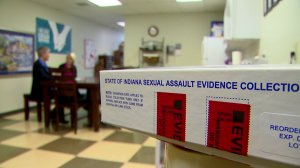 Gray, who spent much of her career as a prosecutor working sex crimes and child abuse cases, started in her position nearly two years ago. She pointed out that Indiana's law says very little about sexual assault kits and what to do with them.
"We don't have anything that tracks the number of kits that we have used, how many medical forensic examinations we do, or that requires any of the kits to be tested," Gray said.
The state's audit of untested kits provided the first-ever glimpse of untested kits, but CBS4 Problem Solvers found the audit to be incomplete and inconsistent. Each county self-submitted its own data, and the numbers are very different from county to county.
About half of the kits had no clear reason they were tested, resulting in the 2,560 number, which leaders have pointed to as kits that should be re-assessed for possible testing.
CBS4 noticed that beyond that, another 1,669 kits were listed as "No Crime/False Report." That number, which represented 31% of the kits, was left out of the "net" of untested kits. It's concerning, because national statistics estimate that only 2-8% of reported sexual assaults turn out to be unfounded.
Marion County, state's largest county, vastly under-reported numbers
Even more concerning was the number provided by Marion County. A double asterisk (**) in the report noted that the county only reported numbers for the year 2015, presenting a "net" of 256 kits as an average "for each year during the last 10 years."
CBS4 Problem Solvers went to the person who reported the number, Commander Kevin Wethington, to get a more accurate count. Wethington runs the Technology & Information Bureau for the Indianapolis Metropolitan Police Department. He met with prosecutors and members of the Marion County SART and said the group decided that to get a full count would have been a "monumental" undertaking.
Wethington estimated that IMPD currently holds 6,500 rape kits. He said that due to changes in computer systems, some items that were coded as kits could be other evidence, so the department does not know how many of its kits are untested, and would have to count one-by-one to determine their status.
"It would take a very large, monumental undertaking to first identify each and every kit that's really a kit and then backtrack that between the prosecutor's office, the court, and the detectives to identify what happened with that case," Wethington said.
Less than a third of Marion County's rape kits are tested each year
Wethington did provide CBS4 Problem Solvers with numbers going back to 1999, which came from the Marion County Forensic Services Agency, which is responsible for all of the county's lab testing.
The numbers show that every year, less than a third of the rape kits collected in the state's largest county are tested.
In 2015, the year in which Marion county went one-by-one to provide numbers for the audit, excluding "Jane Doe" anonymous victims, it collected 404 rape kits. It tested less than 100 of them, which totals 24%.
Over the past 20 years, that number has barely changed. The most kits which have ever been tested were 34% back in 2010. In total, the county has tested 26% of kits since 1999, according to the numbers.
You can see the full chart provided to CBS4 Problem Solvers here: Marion Co rape kit testing numbers.
Other counties make changes to test more kits
Major Craig McCartt, who heads up investigations for IMPD and has worked most of his career in sex crimes, defended Marion County's number of tested kits to CBS4 Problem Solvers, saying there are many reasons a kit may not be tested.
"I understand that looking from the outside it does seem like that's a low number," McCartt said.
McCartt said that at IMPD, detectives decide whether to test a kit, and they only do so if they believe it will help an investigation. Their Sergeant, and then Lieutenant, provide two levels of peer review, looking at each case to determine if a kit should be tested.
"It takes time to do these tests. It takes a lot of money to do these tests," McCartt said.
McCartt and Wethington agreed that they would welcome a more consistent approach.
"If crime lab had unlimited resources, and we had unlimited resources, then I mean we'd love to test every kit just on the chance that maybe that one time we'd find something out," McCartt said. "I think that would be difficult to do at this time with what we have."
It's not too difficult in the state's second largest county, though.
Earlier this month, Lake County officials announced they will start testing all kits, unless a victim reports anonymously under the "Jane Doe" law.
Indiana State Police have also told CBS4 that other counties have begun submitting previously untested kits for testing. As of early April, more than 300 kits had been submitted for cases which originated before December 1, 2017.
What's next for state leaders and advocates
CBS4 Problem Solvers took some of our findings to State Senator Michael Crider, who launched the audit and has been at the forefront of legislation for sexual assault and rape kits. Crider most recently passed the law that will allow for a study of a statewide tracking system for kits.
"I would like to see the policies across the state be pretty much universal," Crider said.
Crider agreed with advocates, like Gray, who want to see every non-anonymous kit tested, in case they could identify serial rapists or re-open old investigations.
"To me, that's just a basic logic," Crider said. "We should do everything we can to test every kit that's appropriate for testing."
For Moss, who spends her days face-to-face with the people behind the kits, and for Eileen Potenza, the hope is that Indiana will recognize it's time for change and that this time, that change will come soon.
"I believe that patients are demanding a little more, demanding a little better," Moss said.
"Talking and getting help are critical and we have to do all we can to open the doors for people," Potenza said.
Resources for victims of sexual assault and rape
If you or someone you know has been the victim of sexual assault, you can contact a local 24/7 Hotline, including (833)-338-SASS for Families First or (317) 776-2472 for Prevail.
There are also a growing number of resources available across Indiana. CBS4 Problem Solvers compiled the list below. You'll find much more on a searchable database by county at the Indiana Coalition to End Sexual Assault's website, at the link here.
RAINN List of Indiana service providers: https://centers.rainn.org/
Families First Indiana: https://www.familiesfirstindiana.org/sexual-assault-counseling-and-advocacy
Prevail Inc. of Hamilton County: https://www.prevailinc.com/
Julian Center, Indianapolis: https://www.juliancenter.org/
Turning Point Domestic Violence Services: https://www.turningpointdv.org/
Middle Way House, Bloomington: https://middlewayhouse.org/
Beacon of Hope Crisis Center: https://www.beaconofhopeindy.org/index.html