This is an archived article and the information in the article may be outdated. Please look at the time stamp on the story to see when it was last updated.
CARMEL, Ind. — After CBS4 Problem Solvers spent nearly a year trying to get a Carmel company to finish one of its projects, more customers started to come forward with their own stories of delays and broken promises.
Lost, frustrated, angry: Carolyn Jolley has experienced a range of emotions over the past two years, and CBS4 has seen it all, as we visited her home in Columbus again and again.
"I just want to come home," Jolley said in November of 2017.
"The rooms … look worse than the did," Jolley said four months later, in March of 2018.
"I don't think they're ever going to get my house done," Jolley said just months ago, in August.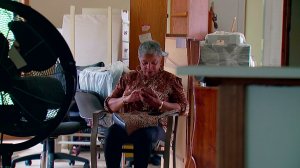 Jolley's home caught fire in the summer of 2016, and she hired Global Restoration to put it back together. She paid the company, which at the time had an office in Columbus, all of her insurance money, totaling more than $150,000.
By the time CBS4 Problem Solvers got involved, Jolley had been paying utilities and a mortgage on the home while she lived elsewhere in a rental property. She said that despite all her pushing, she could not get Global Restoration to do the work.
"It's just a lost feeling. It's like you're just out there, lost," Jolley said.
Company owner's promises go unfulfilled for months
Global Restoration also goes by the name Global Builders, and it's owned by Carmel resident Tom Brown.
In paperwork filed with the Indiana Attorney General, as well as in statements to CBS4 Problem Solvers, Brown has repeatedly claimed that he bought the company from its previous owner after Jolley paid her insurance money.
Despite that, Brown also repeatedly told CBS4 that he cared about Jolley and wanted to get her back in her home. Since last November, Brown has made statements about work being completed at the home that turned out not to be true. He also told CBS4 Problem Solvers that he would meet us at the home when it was finished, but meeting dates would come and go.
In August, CBS4's Jill Glavan began to catch Brown and his project manager saying things that simply couldn't be true.
In one instance, Brown said that he had crews working at the home all week, and that Jolley would be able to move back by the following weekend. Yet, when CBS4 went out the next week, we found hardly any work had been completed. Brown's project manager told us that someone was working in the house the very day we were there, but we witnessed the house empty, with no crew on site.
Global Restoration shuts down
Global Restoration never finished Carolyn Jolley's home.
Instead, on September 12, owner Tom Brown began calling and visiting customers, telling them that the business was shutting down. Less than two weeks later, Brown filed for Chapter 7 bankruptcy.
Brown's bankruptcy paperwork shows that he owes more than $925,000 in debts to banks, law firms, small businesses, and business partners.
CBS4 Problem Solvers obtained additional paperwork, which shows that Brown filed bankruptcy in 2004 as well. At the time, he owed more than $384,000 in debt related to a company in Terre Haute, Brown and Son Construction.
Despite repeated attempts to speak with Brown and get his side of the story, he never agreed to sit down with CBS4. Instead, he repeatedly tried to get us to meet with him off the record. CBS4 sent Brown a list of detailed claims and accusations in an effort to get a response before airing a report. Brown said he would provide evidence and a written statement, but he never sent either of those.
In an initial hearing in bankruptcy court, Brown said that when he bought Global Restoration, he incurred around $250,000 in debt he didn't know about. He said that he did not know the state of Carolyn Jolley's home when he took over, and did not offer an explanation for the repeated delays.
More customers come forward with similar complaints
CBS4 Problem Solvers has uncovered at least ten properties across Carmel, Noblesville, and Indianapolis, as well as one in Brown County, that Global Restoration took on starting in April. Homeowners at those properties paid Tom Brown at least $200,000 total and the company didn't finish any of their jobs before Brown went bankrupt.
Five homeowners spoke on the record, describing similar scenarios of broken promises, slow progress, and sub-par work.
Reed McGrew, a young father of four, hired Global Restoration to finish his basement and paid an initial installment of $8,600. In emails, he and his wife repeatedly pressed Brown, as they waited two months for their project to start.
"We even asked him, 'Are you even planning on doing this work?' He said, 'I would never take money from someone in the community and then not do the work,'" McGrew said.
McGrew's complaints mirrored those of Carmel residents Harlana Steppe and Lisa Delp.
Steppe and her husband hired Global Restoration in April to renovate their living room, paying $4,300 for labor only. The couple had previously hired the company to restore their kitchen after a flood and were happy with the work.
This time, though, Steppe said the progress was slow and a lot of work had to be re-done multiple times, most notably the drywall. When CBS4 visited the home in September, it was still gutted and nowhere near complete.
"I really feel betrayed, we really put a lot of confidence and trust in Tom," Steppe said.
Delp also hired the company in April for a renovation of her kitchen and bathroom. Multiple items in her home had to be re-done as the project progressed, and she similarly described slow work that caused many frustrations.
"I've had to hire another contractor to come in and fix all the things that are wrong," Delp said.
Michael Heims and his college friends recently started a real estate company and hired Brown to flip a house on the east side of Indianapolis. They paid two $28,000 payments, including one just two weeks before the company shut down, and most of the electrical work had to be re-done by another contractor.
"It's pretty much an entire loss, the $60,000 we paid him," Heims said. "We're not in a very good position with it right now, we definitely don't have enough money to complete it."
Across town, Lovie Smith was beside herself as she showed CBS4 Problem Solvers her partially completed home. Smith hired the company after a pipe burst in her attic, and they hung drywall and painted, but did not finish the rest. She paid $9,100, which she said was the last of her insurance money held in escrow.
"My worst nightmare came true," Smith said. "The goal was to get it fixed up and sell it, so now I'm out of money trying to clean it out and just sell it as is."
Homeowners pick up the pieces
Bankruptcy experts tell CBS4 Problem Solvers that homeowners are unlikely to get their money back. Brown listed his debt to all of them as $0.00 in his bankruptcy paperwork, which experts say probably means he will argue that he completed some work on their homes, and another contractor could be hired to complete what was left on their contracts.
For people like Delp, though, that doesn't account for work that had to be re-done and months of stress.
"Everybody can make a mistake in their life, but this is more than that," Delp said. "This man needs to be held accountable."
In the absence of justice, Delp and others have turned their attention to Carolyn Jolley, the woman who first blew the whistle. They're working to do the work that Global Restoration never did on Jolley's home.
At CBS4's request, Lowe's Hardware in Columbus has also stepped in and agreed to help complete Jolley's home for free. In recent weeks, contractors have found major issues with plumbing and electrical work in the house and begun to make repairs.
It's an uphill battle, but Jolley said seeing people come together for her has restored some of the hope she lost over so many months.
"This has been over two years, so I don't know when I'm going to get to the end of the tunnel, but whenever I get to the end of the tunnel, I know it's going to have to be a brighter day ahead than what it has been," Jolley said.
A fundraiser has been established online for Jolley, and all money will go directly to her needs. You can donate at the link here.
If you have additional information for CBS4 Problem Solvers, or want us to consider a problem of your own, contact us at 317-677-1544 or ProblemSolvers@cbs4indy.com.