This is an archived article and the information in the article may be outdated. Please look at the time stamp on the story to see when it was last updated.
INDIANAPOLIS, Ind. - The Indianapolis Colts home opener is days away, and one Twitter account has fans excited for the season.
The man behind the parody account @CaptAndrewLuck talked to us ahead of Sunday's season opener (1 p.m. Sunday on CBS4).
Many of its 273,000 Twitter followers theorize the creator is Andrew Luck himself, but that's not true! The creator is a West Coast writer.
"I came across this photo that looked like Luck in the Civil War era, and I just thought that it was hilarious," said @CaptAndrewLuck of his inspiration for the account. "I'm a huge history buff and I loved the Ken Burns series on the Civil War, and I just sort of cracked myself up making up this voice of Luck as a voice over in a series like that, but obviously instead of talking about war, he's talking about football."
The first tweet in June 2016 had meager beginnings, eight retweets and 57 likes, but the account ultimately took off.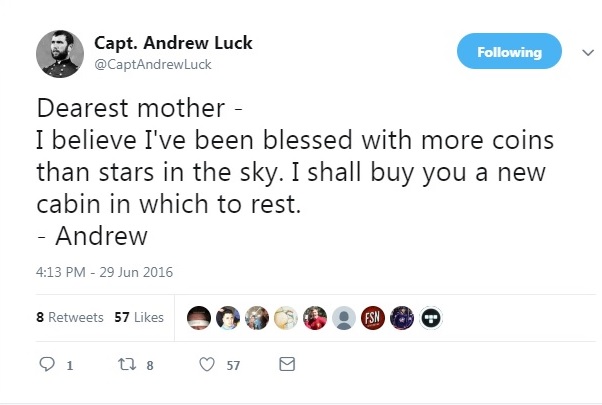 The creator keeps the posts positive through losses or struggles, like last season when Luck was out.
"I knew that he would be back, I knew that he would be great on the field, so there was no reason to stop doing it," he said.
When Luck's mustache made news, @CaptAndrewLuck wrote to his "Dearest mother."
"I think that the fun of it for the fans is that there's a connective tissue to what is actually going on," the creator said.
When a healthy Luck threw his first touchdown of the preseason, the account's tweet got a response from the San Francisco 49ers.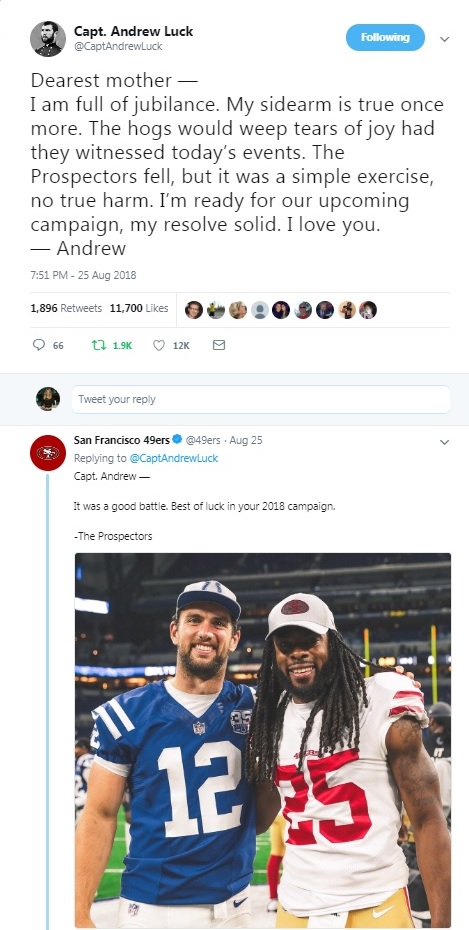 "He's a heck of an athlete, and he's an incredibly positive, good person, and I try to keep all that in mind," said the creator.
He also said part of the fun is adding in other players and teams. In one tweet, he mentions "Our trusted sniper, Sgt. Vinatieri.." He said Luck would never just talk about himself, so he's keeping that theme with the account.
The account that began as a spinoff of a different parody account is seeing that theme continue. A t-shirt company in the Washington, D.C. area has printed its own "Dearest Mother" t-shirts in homage to @CaptAndrewLuck. They are not affiliated with the account, just fans like so many others.
*All tweets credit: @CaptAndrewLuck