This is an archived article and the information in the article may be outdated. Please look at the time stamp on the story to see when it was last updated.
UPDATE (February 1, 2016): Livengood was sentenced to 365 days, all suspended but time served.  She was given 359 days probation.
LAWRENCE, Ind. (March 11, 2015) - Lawrence police filed charges in a recent hit-and-run case that left one man badly injured. Jessica Livengood, 27, is being charged with leaving the scene of an accident causing serious bodily injury.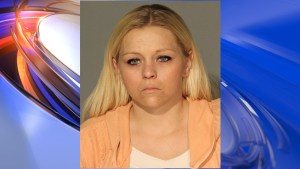 Just after 5 p.m. Wednesday, she turned herself in at the Marion County Processing Center.
Victor Ramirez was crossing the road on the 8700 block of Pendleton Pike on Feb. 21 when he was hit by a blue Dodge Charger. The driver of that vehicle left the scene of the accident.
Police made a break in the case last week when they found  the Charger involved in the crash and identified the driver. Lawrence police said the car belongs to a family member and there's no insurance on the car. Livengood's license had been suspended for multiple traffic violations.