This is an archived article and the information in the article may be outdated. Please look at the time stamp on the story to see when it was last updated.
Today will be a gray day with below average temperatures. Highs will top out around 35, with an isolated rain or snow shower during the afternoon possible, although most will stay dry. Tonight we have a small chance for a passing flurry, but it won't amount to any accumulation.
Over the next four days temperatures will climb. By Friday we'll see highs in the low 60s, however that will be accompanied with 45 mph wind gusts. Our average high is 40 and we'll stay well above that through the weekend.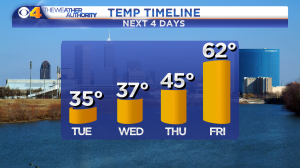 Friday will also feature some very small rain chances. More rain arrives early next week.