This is an archived article and the information in the article may be outdated. Please look at the time stamp on the story to see when it was last updated.
KOKOMO, Ind. – Local, state and federal authorities conducted a large raid in Kokomo Tuesday as they worked to dismantle a large drug trafficking ring.
"Operation Law and Order" resulted in federal charges against 15 people with a total of 21 suspects connected to the case. Investigators said the suspects brought large amounts of drugs into the Kokomo area for distribution to other locations around Indiana.
On Tuesday morning, about 130 agents, troopers, deputies and officers from multiple law enforcement agencies served warrants at 13 locations in Kokomo and the Macon, Georgia, area. They seized more than 17 pounds of methamphetamine, two pounds of cocaine, two ounces of heroin, 122 grams of fentanyl and six ounces of marijuana.
In addition, officers seized 12 vehicles, $37,000 in cash, 24 guns and two money counters. U.S. Attorney Josh Minkler said not a single shot was fired during the operation.
"Cases like we just did in this community will make this community safer. It will be safer.  It is safer today than it was yesterday," said United States attorney Josh Minkler.
Newly unsealed court records claim Reggie Balentine was leader of the organization, with the drugs manufactured in Mexico and supplied by Pierre Riley from Macon Georgia.
Kristin Kinney is accused of storing and counting the drug money.
Prosecutors say Jamal Williamson and Sira Qadir were hired as hitmen and paid $7,500 to murder someone they thought stole money from the group, although that killing never took place.
One suspect Michael Reynolds is now deceased. Melissa Baird remains the lone fugitive not yet arrested.   The rest are facing a variety of charges for allegedly helping distribute the drugs.
"These are defendants that are charged that are making money, they are making blood money off of drug addicts," said Minkler.
Minkler said drug violence and gun violence go hand in hand.
"They are armed to the teeth to protect their drugs and their drug money," he said during a news conference Wednesday.
He called their profits "blood money" and said the alleged drug dealers charged in the case exploited drug addicts and contributed to the state's growing drug problem. He called the ring a "massive" drug operation and said the investigation lasted about four months.
"We used massive federal resources. No expense was spared to target these individuals, and the response was consequential," Minkler said.
Everyone involved in the raids knows one bust won't eliminate drug dealing in Kokomo, but they did have a word of warning.
"For the people who think just because we didn't knock on your door yesterday, we are coming to get you," said Kokomo police chief Robert Baker.
"Indiana and the southern district of Indiana will be the most inhospitable place in this country to deal drugs and that will turn this crisis around," said Minkler.
Despite the large scale of the operation, not a single shot was fired during any of the raids.  No citizens, suspects or officers were hurt during the investigation.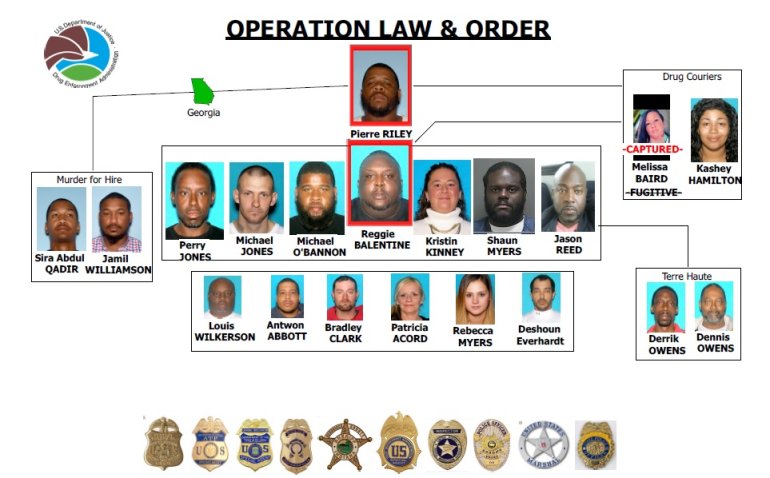 The following individuals face federal charges:
Pierre Riley, 50, Macon, GA
Reggie Balentine, 41, a/k/a Pudge, Kokomo, IN
Diondre Jones, 34, Kokomo, IN
Michael O'Bannon, 33, a/k/a Lunchy, Kokomo, IN
Kristin Kinney, 35, a/k/a Cupcake, Kokomo, IN
Michael Jones, 35, a/k/a MJ, Kokomo, IN
Jason Reed, 49, a/k/a Jamon, a/k/a Jasil, Kokomo, IN
Derrick Owens, 37, Terre Haute, IN
Deshoun Everhart, 39, Warsaw, IN
Perry Jones, 43, Kokomo, IN
Melissa Baird, 38, Kokomo, IN
Shuan Myers, 35, Kokomo, IN
Antwon Abbott, 38, Kokomo, IN
Patricia Acord, 58, Kokomo, IN
Bradley Clark, 49, Kokomo, IN
The case involved several agencies: Drug Enforcement Administration, Federal Bureau of Investigation, Bureau of Alcohol, Tobacco, Firearms and Explosives, Internal Revenue Service, Unites States Postal Inspection Service, United States Marshal Service, Hendricks County Sheriff's Department, Vigo County Drug Task Force, Indiana State Police, Indianapolis Metropolitan Police Department, Miami County Prosecutor's Office, Terre Haute Police Department, Warsaw Police Department, Indiana National Guard Counter Drug, Howard County Sheriff's Department, Howard County Prosecutor's Office and the Kokomo Police Department.