This is an archived article and the information in the article may be outdated. Please look at the time stamp on the story to see when it was last updated.
INDIANAPOLIS, Ind.– An unplanned trip to a local breakfast cafe quickly turned into a life-saving moment after a woman collapsed from a seizure.
Bonnie Howard and DeAnne Green were just arriving to Sunrise Cafe in Fishers for breakfast when they heard a woman in the parking lot scream and fall to the ground. They immediately rushed over to help.
"All of a sudden the lady just went completely limp," said Howard. "I couldn't find a pulse, so I started doing chest compressions."
The two are both athletic trainers at Community Health Network. After Howard realized the woman had no movement or pulse, she began CPR while DeAnne was on the phone with dispatch.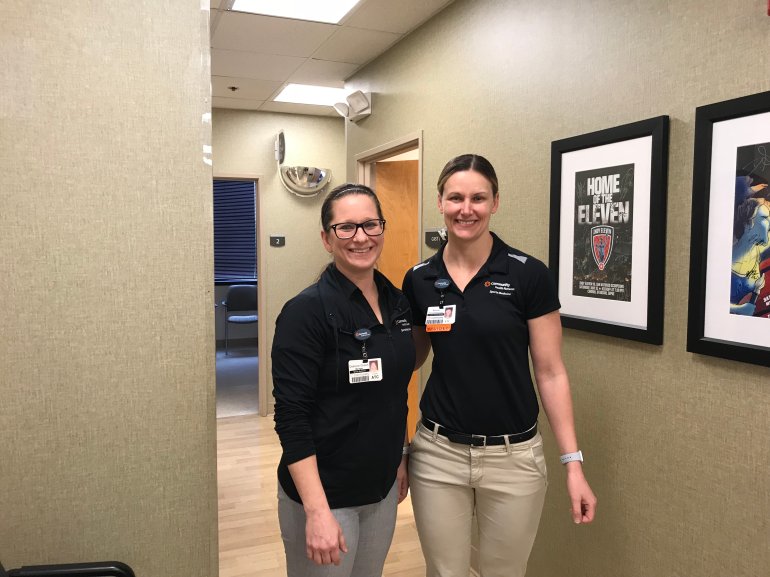 The woman was visiting the cafe with her husband and another woman who drove the couple. Emergency personnel arrived and transported the woman to Community Heart and Vascular Hospital.
Howard and Green visited the woman and her husband at the hospital while she was recovering. They found out the two are regulars at Sunrise Cafe, brought the woman her favorite order and explained what had transpired.
Now, Howard and Green are stressing the importance of CPR training. They said they were in the right place at the right time and were able to use hands-only CPR to save a life.
"I think it's crucial for everybody to know it because who knows what would have happened if we hadn't have been there and couldn't start that right away," said Howard. "You only have a few seconds before things can start to shut down, so I think it's very important that everybody know it, especially being an adult. Just doing chest compressions can save somebody's life."
Officials with Community Health said the woman had suffered from severe dehydration and low blood pressure when she collapsed. She was eventually released from the hospital and is doing well.
"We ended up going for breakfast at 4'clock simply because we ran out of eggs," said Green. "It wasn't our usual deal to go to breakfast on Saturday morning. We just picked Sunrise Cafe and it happened to be right place, right time."
"I definitely think us getting out of the car and arriving at the same time was the perfect place to be at that time," said Howard. "Normally, I don't go eat breakfast on Saturdays, but I'm a believer in fate. I believe something brought me there and I was able to help."
Employees at Sunrise said the couple are regulars who come in for breakfast every morning. They said the couple has since been back to the restaurant following the medical emergency.