This is an archived article and the information in the article may be outdated. Please look at the time stamp on the story to see when it was last updated.
INDIANAPOLIS, Ind. – The arrest of an accused killer with the help of DNA evidence is reigniting an important public safety debate.
The Boone County prosecutor is calling on state lawmakers to change Indiana law to allow easier DNA collection from criminal suspects.
Prosecutor Todd Meyer says this case proves that obtaining DNA samples from people arrested for felony crimes makes communities safer, but others have long questioned whether changing state law could violate people's civil rights.
After the murder of an 82-year-old man outside his home in Zionsville and shootings at two different IMPD district headquarters, police arrested the man they say is responsible for both crimes.
According to court records, investigators recovered a partial DNA profile from a note left at one of the scenes as well as from a shell casing.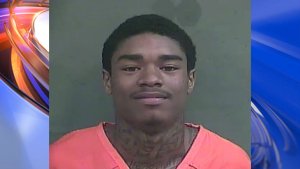 The DNA matched that of Damoine Wilcoxson, whose profile was in a national database because of an arrest in Ohio.
"The DNA helped solve the case much more swiftly than it would have been otherwise there's no doubt about that," said Boone county prosecutor Todd Meyer.
Meyer says Indiana should pass a law, like Ohio's, that requires DNA samples after arrests.  More than two dozen states have such a law.
In 2013, the U.S. Supreme Court ruled the DNA tests constitutional.
"It's no more intrusive than taking someone's finger prints," said Meyer.
Still, critics like the ACLU say the DNA tests should not be done prior to conviction.  Last year, a statehouse committee studied the issue with some lawmakers voicing concerns about privacy rights.
"To say that we can take people's DNA just because they've made some violation, whether or not they did it or not for example, is a scary thought for me," said Sen. Michael Young.
Prosecutor Meyer counters that Wilcoxson's arrest proves DNA samples can protect the public. Police in Zionsville agree.
"I would certainly advocate our state statutes be re-examined," said Zionsville police chief Robert Knox.
"I'm hoping when we have real life cases like this, we used Ohio's law to our benefit to solve this crime in our community,  I'm hopeful it will take hold this session," said Meyer.
State lawmakers are sure the issue will come up again during their next session, but they couldn't predict if it would actually pass.
Right now, all 50 states do require DNA samples from people convicted of felonies. The issue here is whether the samples should be taken after arrest or after conviction.