This is an archived article and the information in the article may be outdated. Please look at the time stamp on the story to see when it was last updated.
BROWNSBURG, Ind. – An Amber Alert was canceled on Wednesday afternoon after police say the children involved were safely located, and their father, a suspect in a Brownsburg shooting overnight, was arrested.
Police took Cristhian Garcia into custody at the intersection of Michigan Street and Meridian Street shortly before noon. It is unclear at this time where the children were located.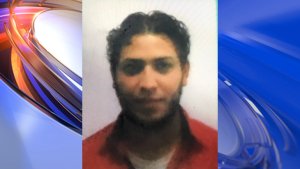 Police say Garcia shot the boys' mother and another man at the Home Goods distribution center in Brownsburg around 10 p.m. on Tuesday night.
Police thought they'd tracked Garcia to a home on the southwest side of Indianapolis early Wednesday morning, but they didn't find him after an hours-long SWAT standoff and a manhunt ensued.
"All I heard was a lot of banging and shots and we woke up. The sirens going off and they was asking him to please surrender and stuff," said neighbor Everett Vaughn.
Vaughn knows the suspect and says he is stunned Garcia would allegedly harm the mother of the children.
"I couldn't believe it," said Vaughn. "He loves them. He was always close together. All of them was."
Police say officers spotted Garcia leaving the neighborhood and the accused gunman was taken into custody during a traffic stop downtown. The motive for the shooting though remains unclear.
Two other people were in the car with the suspect during his arrest. Those two have also been taken into custody for questioning.
"It's a domestic situation but we don't know the exact reason at this time," said Hyde.
Both victims, 26-year-old Jesus Huesca and 22-year-old Alicia Canizales, were taken to the hospital with numerous gunshot wounds. Huesca was pronounced dead around 1:30 p.m., according to family. They tell us he was a great man, and this was a senseless act.
Family says Huesca leaves behind a 21-month-old daughter, "who he adored."
"Jesus Huesca was an amazing man and father stolen far too soon from us," family said in a GoFundMe account has been created to raise money for Jesus' funeral expenses.
If you have any information about this case, please contact the Brownsburg Police Department at 1-888-582-6237 or 911.