This is an archived article and the information in the article may be outdated. Please look at the time stamp on the story to see when it was last updated.
So far this fall we've have above average temperatures and rainfall has been below average. This trend will continue this week. Expect several days of sunshine  with no major chance for rain until Friday. We'll see near record high temperatures on Thursday and Friday before a cold front moves across the state Friday night. The coldest air of the season will settle in for the weekend with highs in the 40s and lows below freezing.
So far our fall has been mild.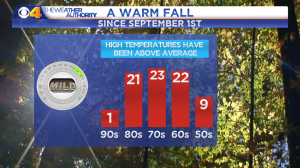 We have only had nine days this fall with high temperatures in the 50s.
November is our second consecutive month with below average rainfall.
Warmer air will move in by Friday.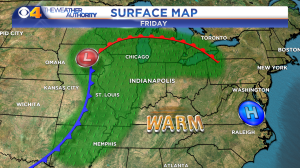 An approaching cold front will bring a chance for rain late Friday.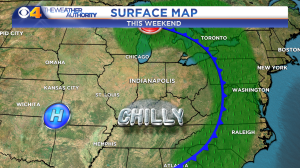 Colder air arrives this weekend.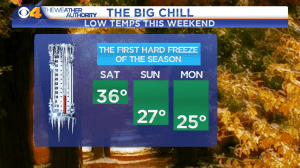 Our first hard freeze of season is likely by early next week.