This is an archived article and the information in the article may be outdated. Please look at the time stamp on the story to see when it was last updated.
HOUSTON (AP) — A photo from the funeral of former first lady Barbara Bush captured a remarkable moment: several former presidents and first ladies together in one place.
The photo shows George H.W. Bush posing with his son, George W. Bush, and two other former presidents — Bill Clinton and Barack Obama. Current first lady Melania Trump also is in the photo along with former first ladies Laura Bush, Hillary Clinton and Michelle Obama. All are smiling as they stand behind the elder Bush.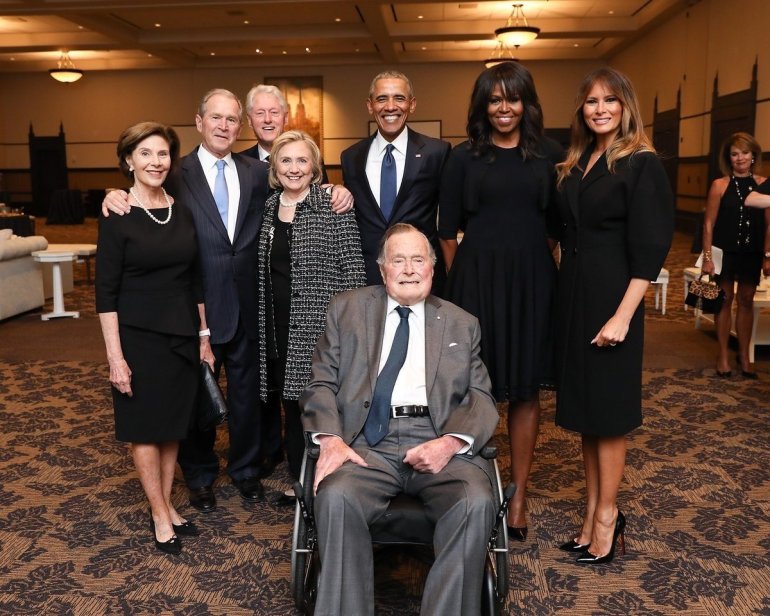 Paul Morse, who previously served as a White House photographer during President George W. Bush's administration, took the photograph. Jim McGrath, the spokesman for George H. W. Bush in his post-White House years, tweeted it.
President Donald Trump didn't attend the funeral for Barbara Bush Saturday, with the White House releasing a statement last week saying he decided not to go in order "to avoid disruptions due to added security, and out of respect for the Bush family and friends attending the service."
The president tweeted that he watched the memorial service on television from "the southern White House," his Mar-a-Lago golf resort in Palm Beach, Florida.
His decision not to attend the funeral is not uncommon for a sitting president. Neither Obama nor George W. Bush attended funerals for first ladies during their terms. Clinton did attend a service for Jacqueline Kennedy Onassis in 1994.