This is an archived article and the information in the article may be outdated. Please look at the time stamp on the story to see when it was last updated.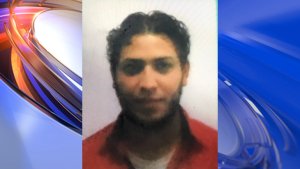 UPDATE: Police have canceled the Amber Alert out of Brownsburg after the three kids were found safe. The suspect is in custody.
INDIANAPOLIS, Ind. – Police ended up empty-handed in the search for a suspect in connection with a shooting in Brownsburg.
Police converged on a home in the 200 block of South Warman Avenue. IMPD and Brownsburg police believed a shooting suspect was in the home and that children may have also been present. Police identified him Wednesday morning as Cristhian Garcia.
The standoff followed a shooting in Brownsburg Tuesday night at the HomeGoods distribution center in the 800 block of East Northfield Drive in which a man and woman were wounded. The victims were identified as Jesus Huesca, 26, and Alicia Canise Canizales, 22. Huesca was pronounced dead at 1:30 p.m. according to his family. Canizales is awake and alert.
The investigation led police to a home on the southwest side of Indianapolis, where they engaged in an hours-long standoff believing the shooting suspect was inside the home. They also believed children were inside, leading them to approach the situation with caution.
However, after deploying flash bangs and entering the home early Wednesday morning, they discovered neither Garcia nor any children were inside the home.
The HomeGoods distribution center reopened at 7 a.m. Wednesday. The company released the following statement about the shooting:
"We are deeply saddened by the shooting of two Associates in our distribution center parking lot last night. Our thoughts and prayers are with our Associates and their families at this time. We continue to fully cooperate with law enforcement, who is actively investigating this violent crime."