This is an archived article and the information in the article may be outdated. Please look at the time stamp on the story to see when it was last updated.
Indianapolis is quickly becoming one of the hottest food cities in America.  A destination for true foodies who are interested in everything from fine dining to food trucks.  This column will put the spotlight on one of these local hot spots to help get the word out and share in the love of all things food.
Review by Dustin Heller
Our food adventure this week takes us to the heart of Patachouville.  That's not a real place–I just made that up–but perhaps it should be.  The corner of 49th and Penn is home to Café Patachou, Napolese, One Fourteen, and our spotlight restaurant this week, Crispy Bird.  All of these wonderful restaurants are part of the Patachou Inc. family founded by Martha Hoover that have been serving the Indianapolis area since 1989.  Crispy Bird, on the other hand, has only been open for a couple months now, and is already making quite an impression on the Indy food scene.
If you couldn't tell by the name, Crispy Bird is a fried chicken joint, but not in the typical way.  The restaurant is immaculate (you won't find any grease on these walls), boasting beautiful wood paneling and exposed white brick.  The interior artwork displays snapshot portraits of chickens in the tone of a high-fashion photo shoot–it's beautiful and quite interesting! Paned windows line the entire storefront, letting in an abundance of light and also making for a nice view of the bustling area.  The dining area is quite small, but that makes for a more intimate dining experience in my opinion.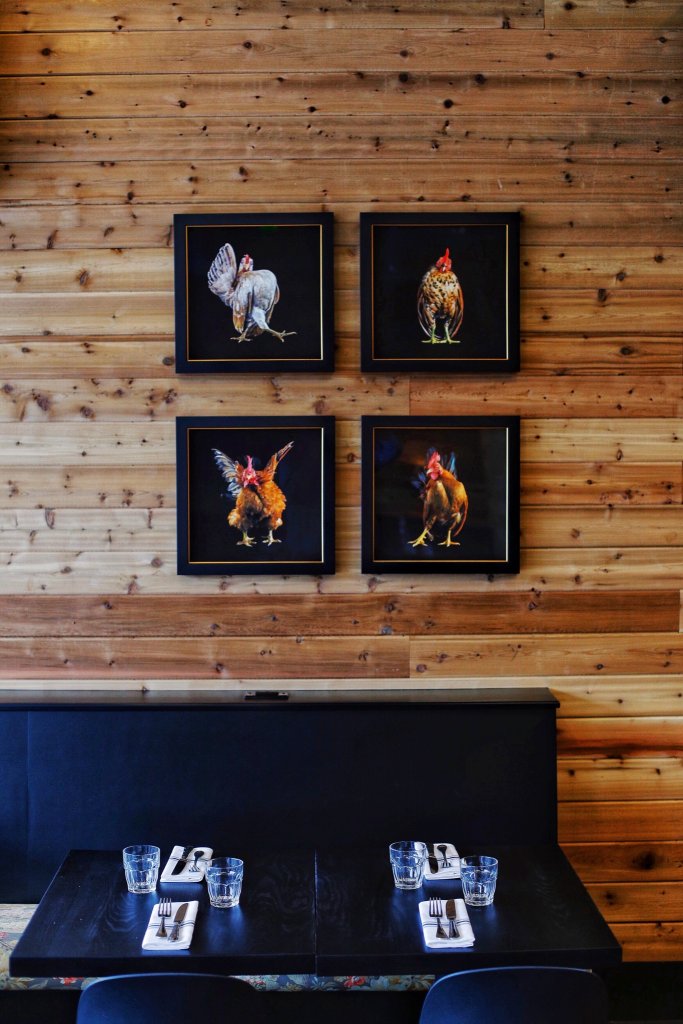 I know, I know…what you really want to hear about is the food, and especially that fried chicken.  I'll get to that, but first let me lay out the ground rules.  I'm going to select one "can't miss" item from every section of the menu, but first, I'll talk about what everyone, young and old, will probably order when visiting Crispy Bird.
Fried Chicken: The namesake of the restaurant and the crown jewel of the menu.  Crispy Bird uses American Freedom Ranger chickens from Gunthorp farms in LaGrange, Indiana.  All their animals are raised on pasture without the use of any antibiotics, and these aren't your run-of-the-mill chickens, either.  Think Shaquille O'Neal, but in terms of a chicken.  Not sure if that made any sense, but I'm trying to say that these are some really big birds.  The Freedom Ranger chickens are known for their excellent taste and texture, which makes them the perfect fit to headline this menu.  The large pieces of chicken are breaded and fried creating a thick, crispy crust that provides a perfect crunch.  This fried chicken can definitely stand on its own, but they do offer a couple of house-made hot sauces that will give it a little extra kick, if that's what you're into.  Not that you need me to tell you this, but get the fried chicken when visiting Crispy Bird!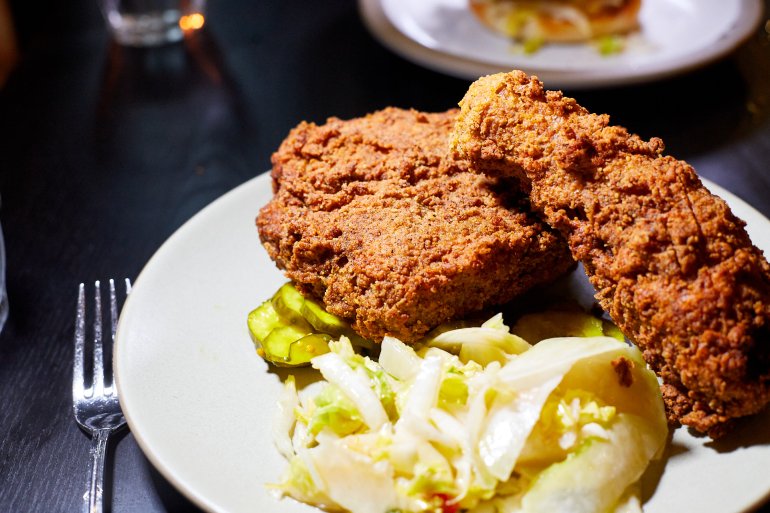 With that out of the way, let's dig into this menu a little deeper and see what "can't miss" treasures we can find.
Snacks
Chicken Liver Tart: Let's stick with the bird theme, but instead of crispy, let's sink our teeth into something silky smooth.  I acknowledge the fact that not everyone is into eating liver, but if you can look past that, you will love this dish.  The liver is served as a pâté in a flaky pastry crust and topped with sliced green apple and an herb salad.  The flavors work perfectly together and that herb salad tastes like Christmas.  You know what I'm talking about.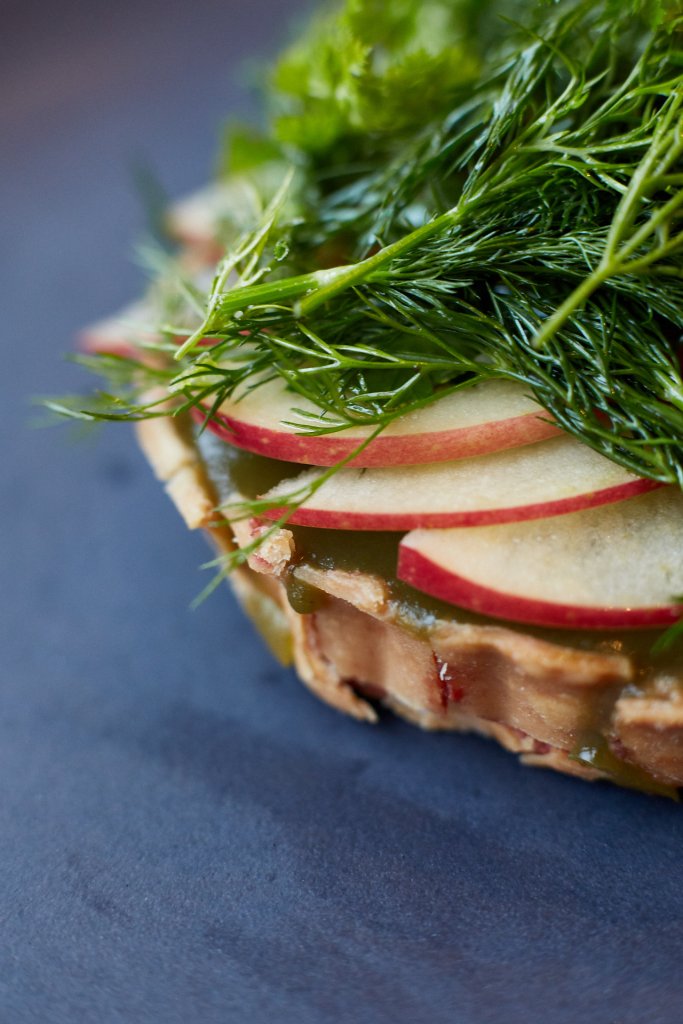 Sides and Small Plates
Kale and Brussels Sprouts Salad: OK, I admit it, I'm a sucker for a Brussels sprouts salad.  I can say that I've never met one that I didn't like, although some are better than others.  The one being served at Crispy Bird is one of the best I've had in Indy.  The salad is made up of kale, Brussels sprouts, cabbage, and apple slices, then topped with a delicious homemade pistachio dressing.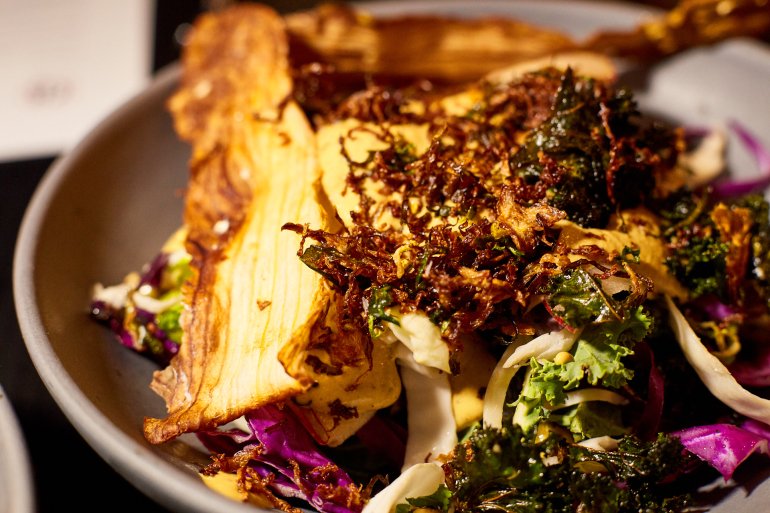 Fried Chicken + Mains
Nashville Hot Cauliflower: This could be considered cheating since it's the fried chicken portion of the menu, but I just really needed a reason to talk about this cauliflower.  Nashville Hot Chicken has kind of taken America by storm over the last few years, so leave it up to the Patachou folks to open a chicken joint and feature Nashville Hot Cauliflower.  Go figure.  Although unconventional, it is really quite brilliant.  Along with the salad mentioned above, this gives the vegetarians a nice option without having to sacrifice on the experience.  They prepare the whole cauliflower (it's huge!) Nashville Hot style and serve it with their meyer lemon kosho aioli and of course a pile of dill pickles.  Seeing is believing.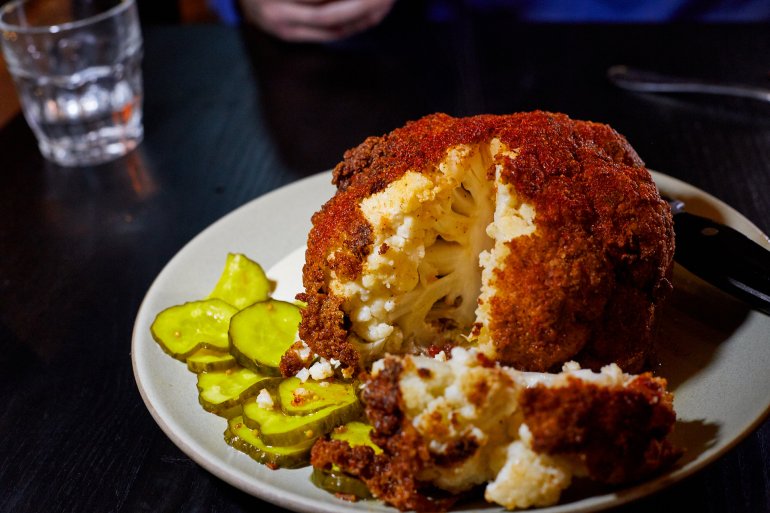 Desserts
Apple Maple Ice Cream Tart: We can always make room for dessert, right?  As big as the portions are for the main courses, the desserts are just the right size to top off your meal.  This is a mini pie crust filled with their scrumptious maple ice cream and topped with a whole baked apple (skin on, core out).  A nice combination of sweet and tart.  I was hoping to get a half gallon of that maple ice cream for the road, but no luck.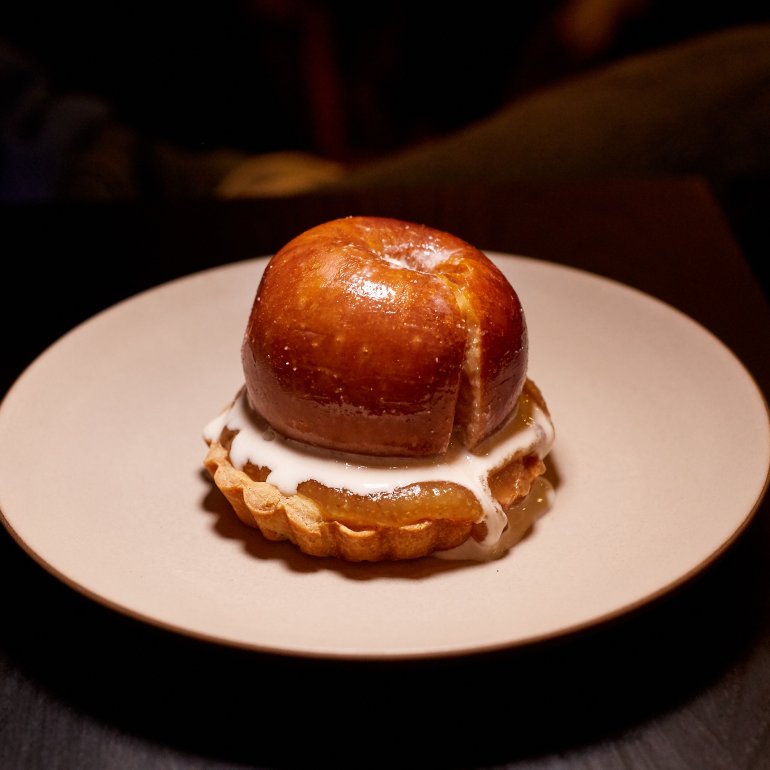 After months and months of anticipation, Crispy Bird is here and already making waves.  I know that I'm already looking forward to my next visit.  See you there, foodies!