This is an archived article and the information in the article may be outdated. Please look at the time stamp on the story to see when it was last updated.
MCCORDSVILLE, Ind. – More than seven years ago, folks in McCordsville were a bit confused when they realized something was being planted on a 24-acre lot and it wasn't a farm.
However, that confusion quickly turned to excitement when they realized it was going to be a vineyard. Then, in April 2017, Daniel's Vineyard opened their much-awaited tasting room, just across the bridge from Geist Marina near 86th Street and Carroll Rd.
Instantly, rave reviews rolled in on Yelp and everyone started seeing someone on their social media posting photos in front of the tasting room's Instagram-worthy "Sip, Savor, Repeat" sign.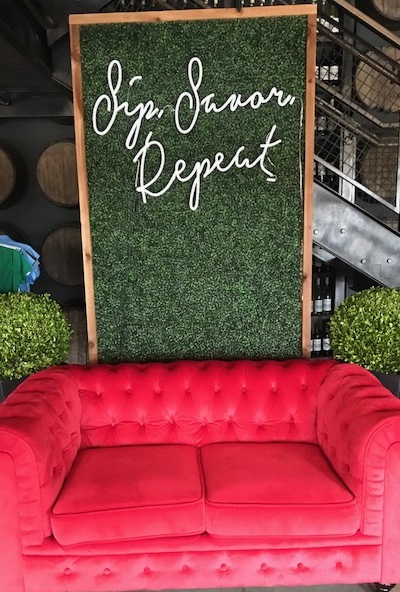 But what makes this family-owned business so special? Well, it all starts with a little girl power.
"It's a lot of women in here, which is fun. Everybody has their opinion, which is great so we get everything sorted out pretty quickly," said Stephanie Pavilonis, co-winemaker at Daniel's Vineyard.
Not only is Daniel's Vineyard a family-owned business, but the whole operation is driven by women– each of them offering up their unique expertise to ensure that every detail has been perfected.
"My younger sister is in charge of Cellar Club and marketing, my sister in law does all of our media type stuff, and my sister Jenna is co-winemaker and she is also does the art and the labels. And my mother kind of runs it all and keeps us all happy," Pavilonis explained.
It all started after their parents, Kimberly and Daniel Cook, took a trip to Napa that inspired them to come back and plant their own vines back in 2010. Today, Daniel's Vineyard has over 14,000 vines, more than a dozen wines on their tasting menu, and a massive tasting room and event space.
Credit: Daniel's Vineyard

Credit: Daniel's Vineyard

Bridal Suite (Credit: Daniel's Vineyard)

Bridal Suite (Credit: Daniel's Vineyard)

Bridal Suite (Credit: Daniel's Vineyard)

Credit: Yelp Indy via Sonya C

Credit: Yelp Indy via Libby B

Credit: Yelp Indy via Sunita O

Credit: Yelp Indy via Libby B

Credit: Yelp Indy via Sunita O

Credit: Yelp Indy via Sonya C

Credit: Yelp Indy via Gyamfua G

Credit: Yelp Indy via Brittany S
"I think it's surprising for people to come in here and try our Noiret, Chambourcin, Marques, Vidal— some of the ones we actually grow out there. They try them and realize that we can grow grapes in Indiana and we can have dry wines, we can have sweet wines," she said.
One trending item that's a big hit based on local Yelp reviews is the wine slushy. Or you can narrow down your favorite wines with their $5 for 4 tastings experience. But what are you going to pair that with?
Made from scratch pizza, of course.
"Not only can you come up and have tastings and pick out your glass and pair it with the perfect pizza, but you can go and enjoy a meal," said Pavilonis.
Or a cheesy raclette sandwich.
"They actually brought their raclette machine over from Switzerland…scooping off the oozing cheese right there with pickles and charcuterie," said Brittany Smith of Yelp Indy.
Four Things You Need to Know:

Not only is the vineyard great for casual hangouts and weekly events, but it's also a sought-after event venue. We got a behind-the-scenes look at their indoor and outdoor spaces for weddings and special events, complete with an absolutely stunning bridal suite.
The events here are an absolute smash. Events range from live music and food trucks, to wine and yoga, to dog friendly events like "Sip. Bark. Repeat." Yelper Sonya C. shared "All of the dogs were encouraged to wear a costume and there was even a costume contest for them!"
This vineyard and winery is family owned. Hosting over 14,000 grape vines, Daniel's offers 15 high-quality wines.
Daniel's Winery is also a full production event venue. You can check out their event calendar for experiences like trivia night, wine and yoga, and more! Be sure to book your private event as well.
It's a homey environment where visitors could easily spend half their day, with ample cozy seating both indoors and outdoors. You could also opt to visit one of their popular events: outdoor concerts, Vineyard Van Gogh (their version of wine and canvas), Wine and Pilates, or something extra special for your Valentine.
"On Valentine's Day we're having Corks and Comedy with Dave Dugan, who is awesome. Then, on Friday, we're doing Salsa Night.. And on Saturday night, we are doing Wine Me to the Moon with Peter Oprisko. It's a Rat Pack tribute [show] and a dinner pairing as well," said Pavilonis.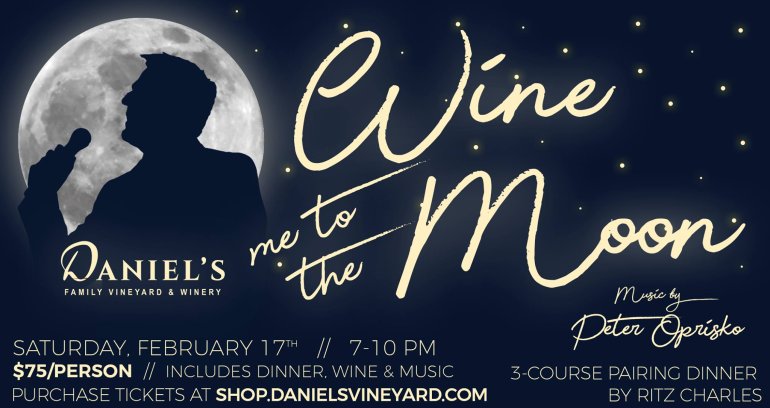 And while you're wining and dining your special someone, you might just forget that you're only 20 minutes from downtown Indianapolis.
"It's like your own little Napa adventure in the backyard of downtown Indianapolis," said Smith.
More details are available via their website, or you can check out their profile on The Knot for wedding booking details.  You can also connect with Daniel's Vineyard on social media via  Facebook and Instagram. For more photos and local reviews, click here to check out their Yelp profile.
While in McCordsville, you can also check out these highly rated hotspots within just 3 miles of Daniel's Vineyard: