This is an archived article and the information in the article may be outdated. Please look at the time stamp on the story to see when it was last updated.
MIDDLETOWN, Ind. — Is there a better way to cool off during the summer than with a wine slushie?
Actually, yes, but only if you pair it with a serene setting, six generations of family pride and an experience that embodies Indiana at its finest.  That's exactly what you will find at Belgian Horse Winery located off the beaten path at 7200 W County Road 625 N in Middletown, where the population is barely over 2,000. Some Yelp reviewers have dubbed this hidden gem "[The] great winery in the middle of nowhere."
So what is it that brings so many people here for a little day trip into the backroads of Indiana's heartland? Our Rachel Bogle takes us to Henry County to find out during this trip "In Your Neighborhood."
"When you talk about businesses that people are willing to make the drive for and to go to parts of the state that they've never been to before, wineries are at the top of the list," said Brittany Smith of Yelp Indy.
Even the drive to Belgian Horse Winery is peaceful. As you pull in, you feel about as far away from city life as you can get. But from moment you step inside, the staff's warm Hoosier hospitality makes you feel right at home.
"Some of the reasons that we are popular is because of my people, the people that work here," said owner Jerri Harter. "We make everyone feel warm and welcome."
(Photo Credit: Yelp Indy via Stamper S)

(Photo Credit: Yelp Indy via Liz I)

(Photo Credit: Yelp Indy via Kendra H)

(Photo Credit: Yelp Indy via Judy C)

(Photo Credit: Yelp Indy via David H)

(Photo Credit: Yelp Indy via David)

(Photo Credit: Yelp Indy via David)

(Photo Credit: Yelp Indy via David H)

(Photo Credit: Yelp Indy)

(Photo Credit: Yelp Indy via Mark H)

Credit: Belgian Horse Winery Instagram

Credit: Belgian Horse Winery Instagram

(Photo Credit: Yelp Indy via Brittany S)

Credit: Belgian Horse Winery Instagram

(Photo Credit: Yelp Indy via J David H)

(Photo Credit: Yelp Indy via J David H)

(Photo Credit: Yelp Indy)

(Photo Credit: Yelp Indy via Jason R)

(Photo Credit: Yelp Indy via Jada B)

Upstairs banquet hall and events space (Photo Credit: Yelp Indy via Belgian Horse Winery)
Plus, they make some really great wine, like the Cranberry Riesling, which is a big favorite in the Yelp reviews.
"We have something for everyone. We have blackberry and peach, so we have an assortment of fruit wines. We also have some nice whites and blends," Harter added.
They also have a new wine called the "Cossack." It's a three white wine blend named after the old Middletown High School mascot.
They also offer options for folks who—like Harter—prefer dry wines.
"I'm a dry red drinker so I like our Cabernet Sauvignon," he said.
If you're feeling adventurous, there's the Coffee Syrah.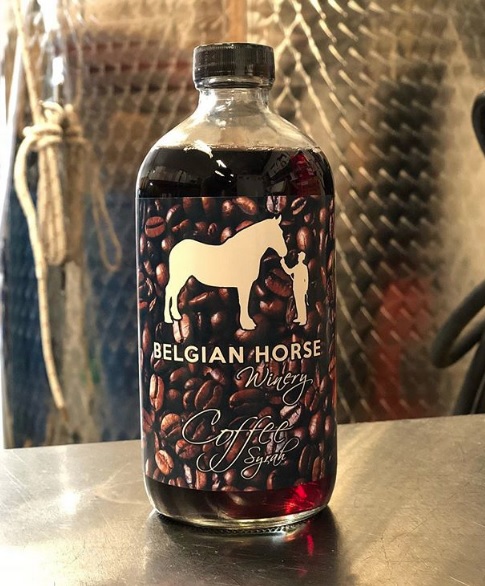 "It has a specific Jackrabbit Coffee that's infused into the wine. So it has a really nice balance, a rich coffee flavor and it has a Syrah finish to it and it's very delicious," he said.
The concept of a coffee wine was new, even for Jackrabbit Coffee's co-owner Ben Orcutt.
"I had no idea what to expect but we were honestly blown away when the product came back to taste," he said.
So what's in it?
"This is our cold brew that we've sort of ultra-concentrated to create a good flavor profile and to provide a liquid concentrate that they could use in the wine."
Partnering with local businesses like Jackrabbit Coffee isn't a rare occurrence for Belgian Horse. If you stop by on a Wednesday night, you will see food trucks and local vendors parked outside, as well as the sounds of local and regional musicians filling the air.
Four Things You Need to Know
Yelpers love the selection of wines. Customers can enjoy a tasting of three blends complete with a complimentary wine glass to keep for just $5.
With trivia nights as well as live music and food trucks on Wednesday nights, Belgian Horse organizes fun programming that keeps visitors coming back.
With plenty of red and white wines and a selection of fruit blends, there's something for every vino lover. The Cabernet and wine slushies are just a few of the items that Yelpers love at Belgian Horse.
The rustic barn winery doubles as an event venue and is a popular destination to host weddings and other special events.
Belgian Horse Winery opened their doors nearly two and a half years ago, but the restoration of the barn and transition to becoming a tasting room, production facility and event space was seven years in the making.
Add in their tranquil scenery and beautiful outdoor patio space (complete with a stage), it's no surprise that Belgian Horse is also a very popular venue for weddings and special events.
"We have a lot of property so we can accommodate most anyone," said Harter. "If you have a corporate event or even a busload of people from the horse track or wherever, we'll accommodate those folks."
Before you head home, don't forget to check out some of their unique shopping inside the tasting room's gift shop.
"We have things like Coco and Carmen clothing and purses and picnic basket sets. We also have some Polish stoneware and we have some candles that some of the proceeds go to animal shelters across the United States," Hartner noted.
If you grab a few bottles of wine to go, check out the label. Each one features an old family photo and celebrates six generations of history here.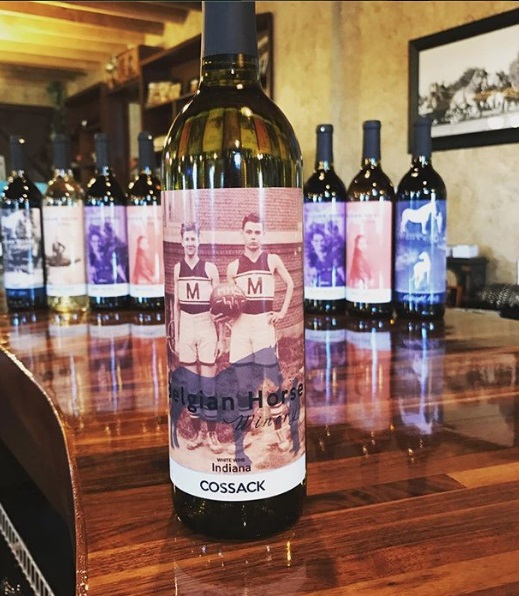 "This land has been in our family since the early 1800s. My father grew up here, my grandfather, his mom and dad," he said. "My dad is gone now but we've been able to keep it in the family and turn it into something that I know they'd be proud of."
For more info on Belgian Horse Winery, check out their official website by clicking here or explore more photos and reviews on their Yelp profile. You can also connect with them on social media via Facebook, Instagram, and Twitter.
Want to explore some other popular Indiana wineries? Here are a few Hoosier favorites also located in central Indiana: