This is an archived article and the information in the article may be outdated. Please look at the time stamp on the story to see when it was last updated.
INDIANAPOLIS, Ind.— It's sometimes said that good things come in threes. That certainly seems to be the case when it comes to Indy's much-loved Smoking Goose. First, there was Goose the Market. Then came their production facility, Smoking Goose, and now— Oca.
The newest Goose spin-off is located in the Cole Noble neighborhood, inside Sun King Brewery at 135 N College Avenue, and just a few blocks from Smoking Goose. They opened just this past November, but a quick glance at their Yelp profile shows that it didn't take long for them to make their mark.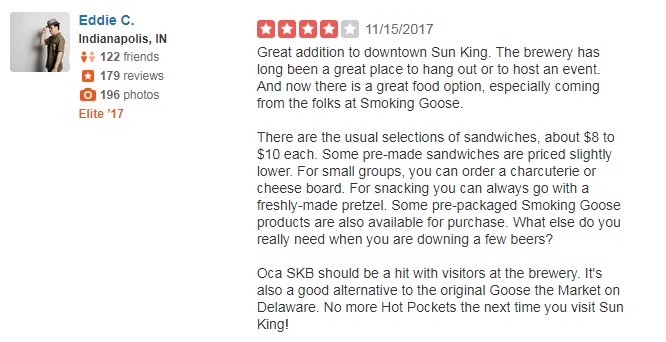 People love that you can find many of your favorite Smoking Goose meats here. However, there is one thing that makes Oca very different from the rest of its Goose family, and it's not just the fact that they are located inside of a brewery.
"The name Oca is Italian for goose The whole idea was a retail store front where we really could present all the things that we make. All the beautiful meats that we produce: all the sausages, salumi, and charcuterie. So it's are taking those items and applying more of a food service to it," said Chris Eley, co-owner of Oca, Smoking Goose, and Goose the Market.
Four Things You Need to Know:

Conveniently located inside Sun King Brewery, there is free parking located in the Sun King parking lot. But don't forget your I.D. because you must be 21+ to enter the premises.
On Fridays, Oca offers 10% off all their Smoking Goose meats in the "grab and go" case, which pairs nicely with the $6 growler fill Fridays at Sun King
Yelpers love the non-traditional sausages like smoked salmon belly and octopus sausage. But there are also plenty of traditional options. One of the more "traditional" favorites are their French bread sandwiches.
Reviewers also note the large potion sizes of their in-house dishes. There are also packages meat and cheese and grab and go panino sandwiches if you're just coming to fill up your growler. They also offer traditional and boxed-lunch catering.
Since they're located inside Sun King Brewery, people are loving the "two birds in one stone" benefit of having two of their local favorites under one roof.
Surprisingly, though, Eley says opening another location wasn't even a thought in his mind until the folks at Sun King approached him last year with an idea.
"[They] said we are going to revamp our tasting room, we want to add a food component. We would love if you would be the one to do the food," he explained.
And thus, Oca was born. Now, he says the future includes plans to open more Oca locations.
"That's kind of what we're working on. We're working on a couple locally, so we want to probably do maybe two or three more locally and then possibly do some in some of the surrounding cities," said Eley.
What makes them different is that, at Oca, you let them do the cooking. Hot plates, sandwiches, and charcuterie made to order and perfectly paired with a Sun King beer at one of the cozy tables inside the tap room.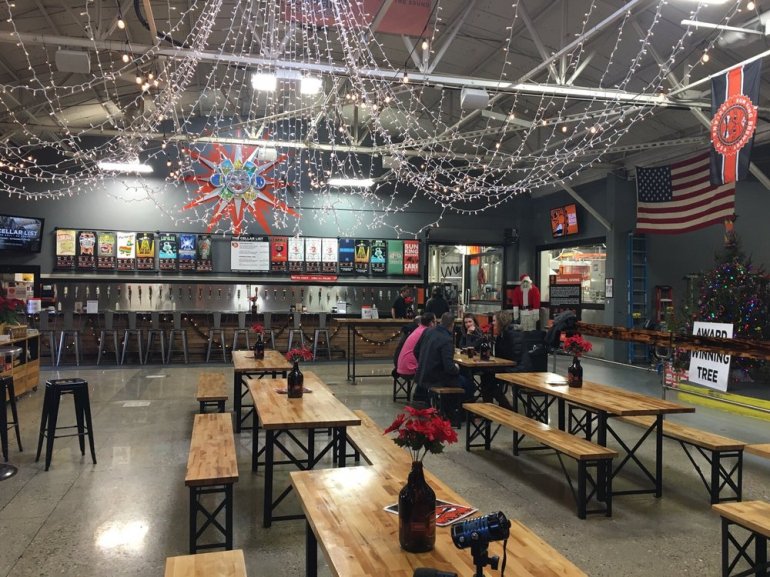 Naturally, one of their most popular items features Sun King's Wee Mac beer.
"So far some of the really popular items, one has been pretzels and beer cheese. We do a beer cheese with pimento cheese. And then nduja, which is like a spicy Calabrian spreadable salami, so it melts really nicely in the cheese and makes a really nice dip for the pretzels," he said.
Then, there's the sausages: one of the most popular, ironically, is called the "Wurst One." It's a curry wurst with crab cocktail, beet-potato hash, and escarole. And there's "The Octo," which is a Berkshire pork sausage with—you guessed it—octopus.
Or if you'd like a bit of a smorgasbord, there's the "Choucroute Garnie."
"It's an Alsace dish that's really focused around fermented cabbage and just really great sausages, smoked pork chop, there's pork belly in there but it's just a really nice dish to share with 3 or 4 people," Eley explained.
If you don't have time to sit and enjoy a meal there, or simply want to grab a sandwich or snack pack, you'll find plenty of options in their grab-and-go case—including plenty of other local products.
"You're going to find Tulip Tree Creamery cheeses, all of Smoking Goose's sausages, Caprini Creamery, and Four Birds Bakery. So, you're going to find a lot of different treats beyond Smoking Goose," said Brittany Smith of Yelp Indy.
Oca also has a constantly rotating menu and specials, which are constantly updated on their blog and social media. You can get more info on their website or connect via Twitter, Facebook, and Instagram (@ocaskb). You can also check out more photos and details on their Yelp profile.
While you're in the Cole Noble neighborhood, check out these other local hot-spots within just three blocks of Oca at Sun King Brewery: