This is an archived article and the information in the article may be outdated. Please look at the time stamp on the story to see when it was last updated.
INDIANAPOLIS, Ind. -- When you think about whiskey and where whiskey is made, most people instantly think of Kentucky and Tennessee and their famous distilleries. But a trio of Hoosiers is setting out to change that.
When the three childhood friends started West Fork Whiskey just over two years ago, they had one mission—to make great whiskey in Indiana. And that's what they're doing at their new tasting room and production facility at 1660 Bellefontaine Street in the ever growing Kennedy-King neighborhood.
"We saw a lot of other companies doing it traditionally in Kentucky and Tennessee. We said 'We have the grain; we have the same water that they use in Kentucky. Why is no one doing it great in Indiana yet?'" explained co-founder David McIntyre.
Credit: Yelp Indy via West Fork Whiskey

Credit: Yelp Indy via West Fork Whiskey

Credit: Yelp Indy via West Fork Whiskey

Credit: Yelp Indy via West Fork Whiskey

Credit: Yelp Indy via West Fork Whiskey

Credit: Yelp Indy via Vanessa J

Credit: Yelp Indy via Ken N

Credit: Yelp Indy via Brooke K

Credit: Yelp Indy via Brooke K

Credit: Yelp Indy via Brittany S

Credit: Yelp Indy via Brittany S

Credit: Yelp Indy via Alex P

Credit: Yelp Indy via Chelsea Z
They opened their first production facility in Zionsville, but last fall they moved their production and a new tasting room here to the Kennedy-King neighborhood where McIntyre says "the sky is the limit."
"We got in [the neighborhood] at the right time… We picture it being like a Fletcher Place or a Fountain Square or a Lockerbie in the years to come. We're just thrilled to be here," he said.
The tasting room offers a view into the production area, just on the other side of the glass. Pull up a chair to chat with the makers and grab a cocktail. As expected, the traditional Old Fashioned is the most popular cocktail. But that's just the start.
"The Beet on the Brat is a very unique cocktail. It also uses our bourbon with house made amaretto and some chili lime bitters… the Smash is another very popular whiskey cocktail for the summer. Its mint, lemon simple syrup, and our all or nothing corn whiskey," said McIntyre.
Four Things You Need to Know:
1: West Fork Whiskey was started by 3 childhood friends on a mission to make great Indiana whiskey using only grain sourced in Indiana.
2: Their tasting room has an open floor concept with the windows looking into the rooms where production is done. You can talk to the makers and owners about the process and actually see it yourself behind the scenes. They also have a private space that can be rented for events.
3: West Fork Whiskey and neighboring business, Cannon Ball Brewing Company, are very supportive of one another. You can actually order food from Cannonball Brewing and they deliver it across the street to you at West Fork Whiskey.
4: In the coming months they will release their traditional rye whiskey as well as some truly unique "experimental collections" in the future as well.
If you're a fan of Fireball and other cinnamon flavored whiskeys, this might pique your interest:
"We have what we think is the only all-natural cinnamon infused whiskey on the market," McIntyre said.
Hungry? Yelp reviewers seem to love that two neighboring businesses are supporting each other in a unique way.
"Cannon Ball Brewing actually sells their food right here. You can get it on a ticket with your drinks all in one shebang. You can have the food and the great cocktails all in one stop," said Brittany Smith of Yelp Indy.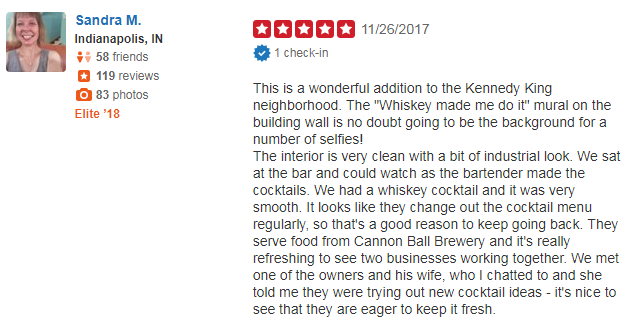 They also have a great set-up for warmer months, with big garage doors that open up to the outside. There, they will have outdoor seating for at least 25 people as well as a totally altered summer cocktail menu.
And that's not the only new thing on the horizon.
"In the coming months we'll be releasing our traditional rye whiskey— which there is few of those in the state… Then moving forward, we're going to have some experimental collections coming out. We're doing unique barrel aging and unique mash bills hopefully quarterly, yearly, whatever it may be to release a truly unique whiskey to the market," said McIntyre.
For more info on West Fork Whiskey, check out their website or Yelp profile. You can also connect with them on social media via Facebook, Twitter, or Instagram.
While in the Kennedy-King neighborhood, check out these other popular local businesses nearby: