This is an archived article and the information in the article may be outdated. Please look at the time stamp on the story to see when it was last updated.
INDIANAPOLIS, Ind. -- Some things are just synonymous with summertime: flip-flops, swimming pools, and barbecue.
When it comes to barbecue, some folks argue that no one does it better than St. Louis. So when St. Louis' famous Sugarfire Smokehouse opened a new location downtown at 24 W Washington St. (in the former Penn Station East Coast Subs space) next to the Conrad, it didn't take long for word to get out.
It also didn't take long for the glowing Yelp reviews to roll in and the long lines of customers to start extending out the door.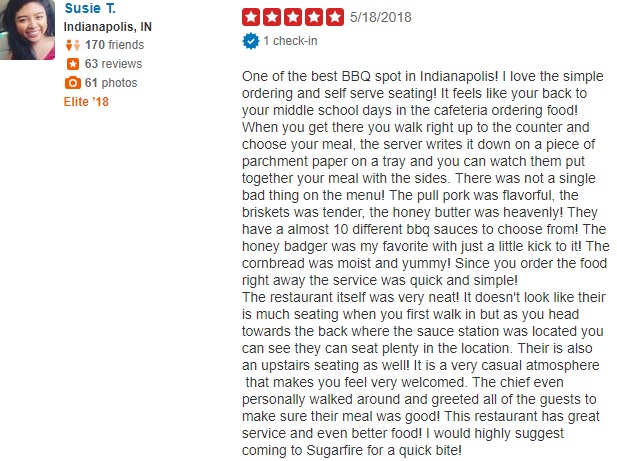 So what's the buzz all about? Our Rachel Bogle visited to find out.
"St. Louis is known for sugar on their barbecue," said Jessica Storts, general manager for Sugarfire Smokehouse. "Then [co-owner] Carolyn [Downs] has been baking for years and she has a bakery called Cyrano's so they collaborated and put the sugar and the fire from the smokers together and it just worked."
That was back in 2012. From there, Storts says things skyrocketed and Sugarfire Smokehouse opened several locations throughout Missouri.
When it came to opening their first out of state location, they chose Indianapolis.
"Indy's a great city as it is, but we noticed that they didn't really have a lot of great barbecue," she explained. "They found a perfect location. We're right next to Circle Center, right next to the Monument."
Photo Credit: Sugarfire Smokehouse Indy Facebook page

Photo Credit: Sugarfire Smokehouse Indy Facebook page

Photo Credit: Sugarfire Smokehouse Indy Facebook page

Del Monte Fresh Produce is voluntarily recalling a limited amount of vegetable trays containing fresh broccoli, cauliflower, celery sticks, carrots and dill dip.

Photo Credit: Sugarfire Smokehouse Indy Facebook page

Photo Credit: Yelp Indy via Matthew L.

Photo Credit: Yelp Indy via Sara S.

Photo Credit: Yelp Indy via Tracy A.

Photo Credit: Sugarfire Smokehouse Indy Facebook page

Photo Credit: Sugarfire Smokehouse Indy Facebook page

Photo Credit: Yelp Indy via Leigh R.

Photo Credit: Yelp Indy via Haley A.

Photo Credit: Yelp Indy via Emiel B.

Photo Credit: Yelp Indy via Emiel B.

Photo Credit: Yelp Indy via David K.

Photo Credit: Yelp Indy via David K.
Every connoisseur knows the key to great barbecue is a good product that's cooked low and slow. But a great sauce is the cherry on top.
Whether your preference is Carolina-style, Memphis, Texas or anything in between, Sugarfire has an original recipe sauce to suit your taste buds.  If you're a bit more adventurous, try one of their monthly special sauces (many of which are made using sodas from St. Louis).
"Last month we did a smoky strawberry chipotle sauce and this month we used our frosty root beer, so we have a frosty root beer sauce," said Storts.
Their most popular menu item is always a combo plate like ribs and brisket.  Other favorites include burgers and sandwiches like the "Hoosier Daddy" and the "Meatrione"—which is named after Indiana's very own MMA star, Matt Mitrione.  But for a taste of everything, there's the "Meat Daddy."
"[It] has every single one: four ounces of every single one of our meats, four bones, our pork ribs, and a smoked jalapeño sausage link which we get locally," Storts said.
With lines out the door during the lunch rush each day, local Yelp reviewers advise getting there early because once a dish or meat is gone, it's gone for the day.
"In terms of scope, you're looking at 1,000 to 2,000 pounds of meat per location [per day], working with several different farmers to bring to cultivate and bring the meat in," said Brittany Smith of Yelp Indy. "They're training through and through: all of their pit masters, the smoking process. There's so much attention given."
Four Things You Need to Know:
Whether swinging by for your weekday lunch or hanging out during for the weekend, you cannot go wrong with this walkable downtown BBQ joint. Sugarfire is open every day from 11 a.m. to 9 p.m., but some days they sell out so don't wait until the last minute!

Yelpers rave about the variety of choices! The meat lovers can choose an original grass-fed burger, delicious smoked salmon, mouth-watering baby back ribs, brisket, turkey, or pulled pork! If you are looking for a vegetarian option, you might enjoy the Cracker Jack or chef salads.

Sugarfire prides itself on being a fast-paced, casual BBQ joint with award-winning burgers, pies, and shakes, all with locally sourced ingredients!

You can order a fried pork sandwich named the "Matt Meatrione," which is named after Indy mixed-martial arts star Matt Mitrione.
Attention isn't given solely to their meaty main dishes. Sugarfire's cornbread and sides have developed quite a following as well.
Each day they have a standard offering of baked beans, coleslaw, potato salad, and hand-cut fries.  Or you can choose from seven additional sides that change daily. A traditional favorite is by far the mac and cheese, but they're also known for other more creative offerings.
"Yesterday we had flaming hot Cheetos-encrusted sushi," Storts said. "We had sweet chili shrimp kabobs and just whatever they can come up with that's funky and fun, that's what we'll do."
Hopefully you brought your stretchy pants because after that, you'll want to try one of their out-of-this-world homemade desserts.
"We have smoked chocolate chip cookies and the sea salt on top of the cookies is smoked," Storts said. "Key Lime pie, the Sugarfire Pie is like gooey butter cake… apple pie, pecan pie, and Mississippi Mud and the Mississippi Mud is like a gooey brownie with graham cracker crust."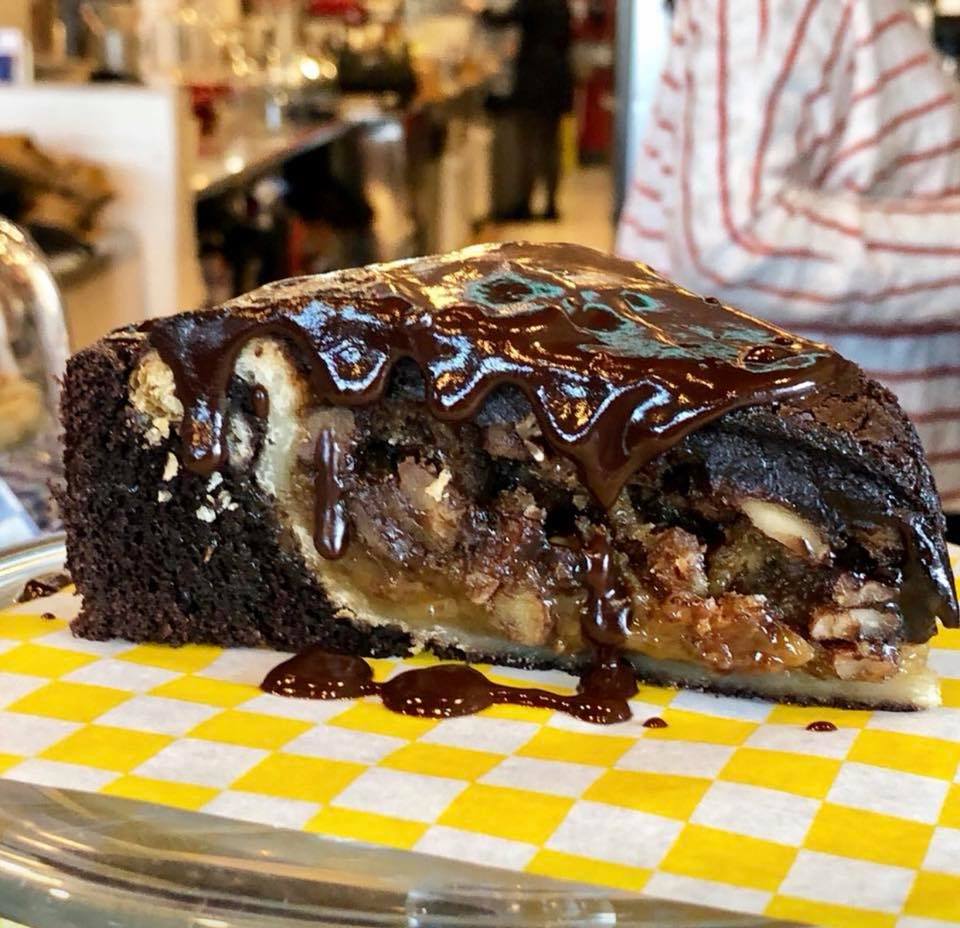 St. Louis-style food and sodas aren't their only highlights. They recently got their beer and wine permit, so St. Louis beers as well as local Indy brews are on the way.
Many guests love the fast paced grab-and-go style that Sugarfire Smokehouse offers, but if you are looking for catering for a corporate lunch or event, they have you covered.
"We do three meats two sides, two meats two sides, one meat two sides, and people even call and order just meat by the pound," explained Storts. "But if they give 24 hours' notice, we can do anything."
For more info on Sugarfire Smokehouse, check out their official website by clicking here or explore more photos and reviews on their Yelp profile. You can also connect with them via Facebook, Instagram, and Twitter.
While exploring downtown, check out some other local hot spots within just three blocks of Sugarfire Smokehouse: