This is an archived article and the information in the article may be outdated. Please look at the time stamp on the story to see when it was last updated.
INDIANAPOLIS, Ind. — Five years ago, the blowouts-only hair studio, Drybar, exploded onto the scene with their iconic bright yellow blow dryers. Celebrities like Cindy Crawford, Julia Roberts, Zooey Deschanel and Emma Roberts became frequent customers. After countless tweets from local beauty fanatics begging Drybar to come to Indy, they did just that and opened up their doors this past May.
Located across from the Fashion Mall and next door to Café Patachou in Keystone at the Crossing, Drybar offers a convenient place for ladies to walk in for some pampering and walk out with a style that will last at 3 to 5 days.
The price? Just $45.
But highlights and dye? You won't find that here.
"Our tagline actually says it best: No cuts, no color. All we do is focus on one thing and be the best at it. And for us, that's blowouts," said Julie Parks, Lead National Stylist for Drybar.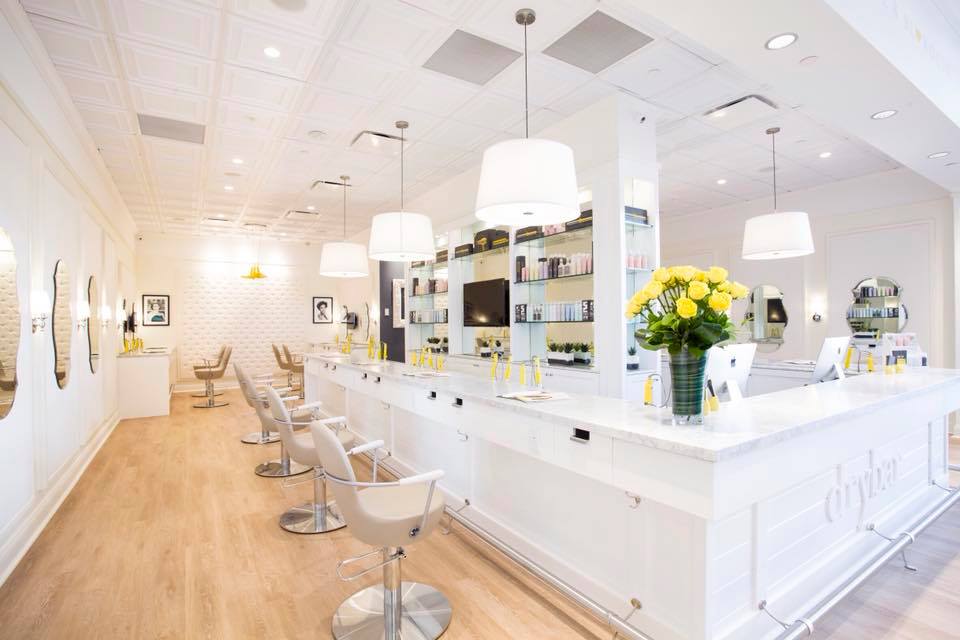 It all started in 2009 when founder Alli Webb started a mobile blow-dry service that quickly took off. In 2013, the first brick-and-mortar Drybar location opened in Los Angeles.
It was an instant hit.
"It quickly became so popular and she knew right away that they needed another location in LA and then another location in LA and it kind of grew from there," Parks said.
Today, Drybar has over 100 locations in the United States and Canada. They also have a hugely successful product line distributed through Ulta, Sephora, and Nordstrom, and has a sizeable following in its own right.
"A lot of people recognize our brand through our products," said Parks. "All of our products are designed to protect your hair from the heat of the blowout, or to make your blowout last, or to actually get the look at home. That's the entire philosophy."
Inside their studio, guests are greeted by chic white walls with yellow accents, cell phone docking stations, fun music, chick flicks playing on the TVs and a really delicious scent—which is refreshing for those who are accustomed to the chemical smell in some other salons.
Another thing that sets Drybar apart from traditional salons?
"Most of our looks are named after a cocktail and you can tell when you are looking around here that a lot of our tools, our products, everything sort of has a bar theme," Parks explained. "We call our receptionists 'bartenders.' Everything has that fun relaxed theme."
Drybar's menu is full of style options. There's the "Old Fashioned" featuring Hollywood waves, the smooth and sleek "Manhattan", the beachy "Mai Tai—which is their most popular style—and the big hair don't care high volume style called the "Southern Comfort." They also offer braids, updos—called "uptinis"– and little girl's blowouts sweetly named the "Shirley Temple."
Drybar is open 7 days a week from 7 am-8 pm, which is convenient for a variety of clientele—whether they are stopping by on their way to work or getting pampered before a night out.
Plus, here, there's no such thing as a 3 week wait for an appointment.
"That kind of goes back to why we started Drybar," Parks said. "We wanted to give women an option to go in, pop in, don't necessarily need an appointment, get in and out in 45 minutes and that's the whole thing,"
You can also book the whole place out for a special event or the ultimate girl's night out.
"Last night we had a huge party with the Indianapolis City Moms group and they kind of took over the whole space. We love hosting those types of events," Parks said.
"We've done corporate events, birthday parties, kids birthday parties, bachelorette parties. So even if you want to book a bunch of blowouts at the same time and come in with your girlfriends or if you actually want the whole place to yourself, either is an option," she added.
Four Things You Need to Know:
A "blow out" is a meticulous method of drying hair to achieve a desired look. Each section of hair is manipulated to get the smoothest and most voluptuous finish possible. Styles typically last 3-5 days.

They share their secrets! Drybar posts videos on their website with tutorials that show how to recreate or prolong some of their trademark looks at home.

Drybar is open 7 days a week from 7 am-8 pm

They have a menu full of style options with names modeled after cocktails: Mai Tai, Old Fashioned, Southern Comfort, Cosmo, Straight-Up, Dirty Martini, and more. They even offer braids and updos—called "Uptinis"—as well as a little girls' blowout called the "Shirley Temple"
For ladies who really love going there– or who find themselves going quite often– Drybar offers a "Barfly" membership, which includes 2 blowouts per month, a free birthday blowout, and a discount on products.
When it comes to clientele, we asked Parks one very telling question:
Who is typical the Drybar woman?
"I feel like it almost changes by the week. Monday through Friday before 8 am, it's our ladies that are on their way to work.[On] weekends, and evenings it's a little bit more for special events, you're going out with your girlfriends, this is kind of your first place to stop before you get to the bar or the restaurant or wherever you're going," she explained.
"I think the beauty of Drybar is that this is a place for any woman and every woman. We have little girls come in here that are 4 to 5 years old. And we have women that come here that are upwards of 80 years old. It's just fun," she added.
For more info, you can check out Drybar's official website by clicking here or explore more photos and reviews on their Yelp profile. You can also connect with them on social media via Facebook, Twitter and Instagram.
While in Keystone at the Crossing, check out these other popular local businesses nearby: