This is an archived article and the information in the article may be outdated. Please look at the time stamp on the story to see when it was last updated.
FISHERS, Ind. – In 2017, Fishers experienced a record year of business growth. We saw the opening of Top Golf, IKEA, Portillo's, and that convenient new roundabout off I-69 at 106th Street.
Another new addition on the other side of I-69 is Della Leva Espresso Bar, located at 8220 E. 106th Street Suite 200. The buzz began following their soft opening around Thanksgiving, but it didn't take long for the positive reviews to roll in after their official grand opening on Jan. 31.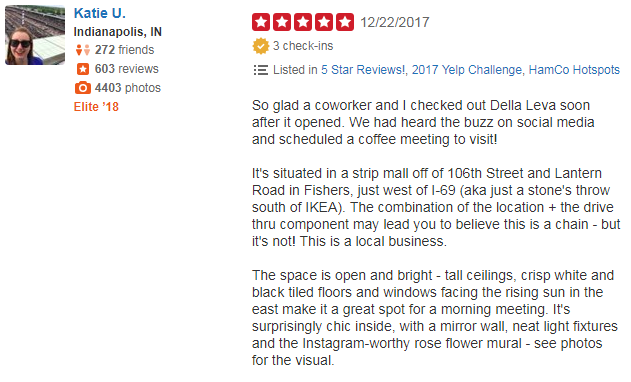 Local Yelpers love the bright, contemporary atmosphere and affordable prices with just a touch of Italian inspiration.
"As soon as I got into business school, I got a newfound appreciation for coffee to get me through," said owner Bridget Edgeworth.
Edgeworth is now taking her passion for coffee and sharing it with everyone who walks inside Della Leva. But the minute guests walk in, the crisp décor, floral mural, and modern touches indicate that this isn't your typical hipster coffee spot.
"A lot of folks note when they walk in the door they actually think that this might be a chain coffee shop because they are not used to seeing big screens with the menus— a little modern vibe there," said Brittany Smith of Yelp Indy.
Inspired by—and named after—Edgeworth's grandmother, Adele Leva, a trip to Della Leva feels less like you're in Fishers and more like a trip to an Italian café.
And no visit is complete without trying one of their house favorites, like the Havana cappuccino.
"Our Havana cappuccino has sweet and condensed milk, cinnamon, steamed cappuccino milk and espresso. So it's a really delicious take on a cappuccino," Edgeworth explained.
For a smaller drink that packs quite a punch, there's the Cortado, which consists of a serving of espresso cut with an equal part of hot milk.
Pair that up with one of their scones or big chocolate croissants—baked fresh each day. Or you can mix it up a bit with some of their more unique pastry options.
"[There's] the butter spinach pesto croissant and a leek Parmesan croissant and they are really savory and delicious," she said.
In a rush? Not a problem. One thing that makes Della Leva so unique as a locally-owned espresso bar is their drive-thru option.
"You can't find that in central Indiana. This is offering that convenience that people are looking for that will bring them over from Starbucks and go to a local coffee shop instead," said Smith.
Four Things You Need to Know:

Yelpers highly recommend the Cubano Havana cappuccino. They offer many other espresso classics like shots, lattes, Americanos and more! Be sure to inquire about the sugar-free options as well. These options include vanilla, hazelnut, and mocha.
Many reviews note the affordable prices. Many of the large lattes come in just under $4, and the breakfast sandwiches for roughly $3.
Della Leva offers convenience of location right off I-69 plus the ability to go through the drive-through.
The beautiful rose flower mural inside is the center of attention that really brings the atmosphere to life. The decor, excellent customer service, and fair prices will keep you coming back.
Looking to save a buck? If you check in on the Yelp app, you'll get $1 off your drink.
If you're looking to make the most of your afternoon, you're in the right place. Fishers is packed with things to do and that's not just referencing the big-name attractions like Ikea and Top Golf. There are plenty of trails, bike paths, and even nature preserves like Ritchey Woods right in Della Leva's backyard.
For more info on Della Leva Espresso Bar, check out their Yelp profile or connect with them on social media via Facebook, Twitter, or Instagram.
If you're a coffee fanatic, you can also check out these other top-rated coffeehouses also located in Hamilton County: