This is an archived article and the information in the article may be outdated. Please look at the time stamp on the story to see when it was last updated.
INDIANAPOLIS, Ind. — Have you ever wanted to go way out of your comfort zone and channel your inner Cirque du Soleil or trapeze artist?
That's exactly what you can do at Cirque Indy– Indy's one and only circus school, specializing in aerial arts.
A true hidden gem, tucked away just off College Avenue at 617 N. Fulton Street, Cirque Indy has provided a place for people to conquer their fears, strengthen their bodies and fall in love with aerial arts.
"It's the closest thing to flying," said instructor, Alaina Cutler.
Believe it or not, Cutler actually considers herself a bit afraid of heights. But after a friend gifted her a free class for her birthday several years ago, she was hooked.
"When you're up there, you're not thinking about anything else [like] your dealing that you've got to meet," she said. "You're just focused on working out and staying afloat up in the air so it's kind of hard to stress about anything else."
Photo Credit: Cirque Indy Facebook page

Photo Credit: Cirque Indy Facebook page

Photo Credit: Cirque Indy Facebook page

Photo Credit: Yelp via William Aaron K.

Photo Credit: Yelp via Niki K.

Photo Credit: Yelp via Niki K.

Photo Credit: Yelp via Lauren L.

Photo Credit: Yelp via Katie U.

Photo Credit: Yelp via Jennifer S.

Photo Credit: Cirque Indy Facebook page

Photo Credit: Cirque Indy Facebook page

Photo Credit: Cirque Indy Facebook page

Photo Credit: Cirque Indy Facebook page

A kids class at Cirque Indy (Photo Credit: Cirque Indy Facebook page)

Photo Credit: Cirque Indy Instagram
Aside from the psychological benefits of feeling empowered and conquering fears, she said aerial arts will also give you one heck of a workout.
"It's a lot harder than it looks…You are going to work your upper body so hard and primarily also your core. I always tell people if you're looking to get ripped— you know you're summer bod— this is a phenomenal place to do it," Cutler explained.
But don't expect to be Cirque du Soleil level right off the bat. Like any other sport or activity, you have to start with the basics by taking the intro class—which Cutler describes as a "crash course" in aerial arts.
"You'll come, you'll get a little bit of safety cues for silks, for the aerial hoop (also called the lyra) and then trapeze… Just enough of a taster to get you hooked," she said.
If you do get hooked, you can get a membership to attend classes and open gym on a regular basis.
"The basic membership is our first level of membership and you get 5 classes a month with that as well as unlimited open gym so if you do want to come to open gym and practice what you learned, it's a really good value," said Cutler. "Then we have different levels on top of that as you progress."
Four Things You Need to Know
Owner Mary Brumbaugh opened Cirque Indy nearly 5 years ago. They will be celebrating their anniversary this November.

Cirque Indy is a great place to host a unique private party or event! They are popular for bachelorette parties, birthdays and corporate team building events.

It's harder than it looks! They can customize your experience for any age and experience level, but you are sure to get a great workout! Their introductory class is a "crash course" in aerial arts. Students get to try their hand at silks, the aerial hoop and trapeze with plenty of hands-on instruction.

Aerial arts aren't just for women! Cutler said it's something men can and should do. Plus, men are actually naturally a bit better at aerial arts due to their inherent upper body strength.
If you're looking for something unique for a bachelorette party, birthday, or company team-building exercise, Cirque Indy offers a truly out-of-the-box destination.
"You can do private parties here and you can choose to book the whole gym out and you'll have an instructor all to yourself," she noted.
They also offer private one-on-one classes as well as kids' classes. She also said that no matter what skill level you are, the instructors at Cirque Indy can customize your experience.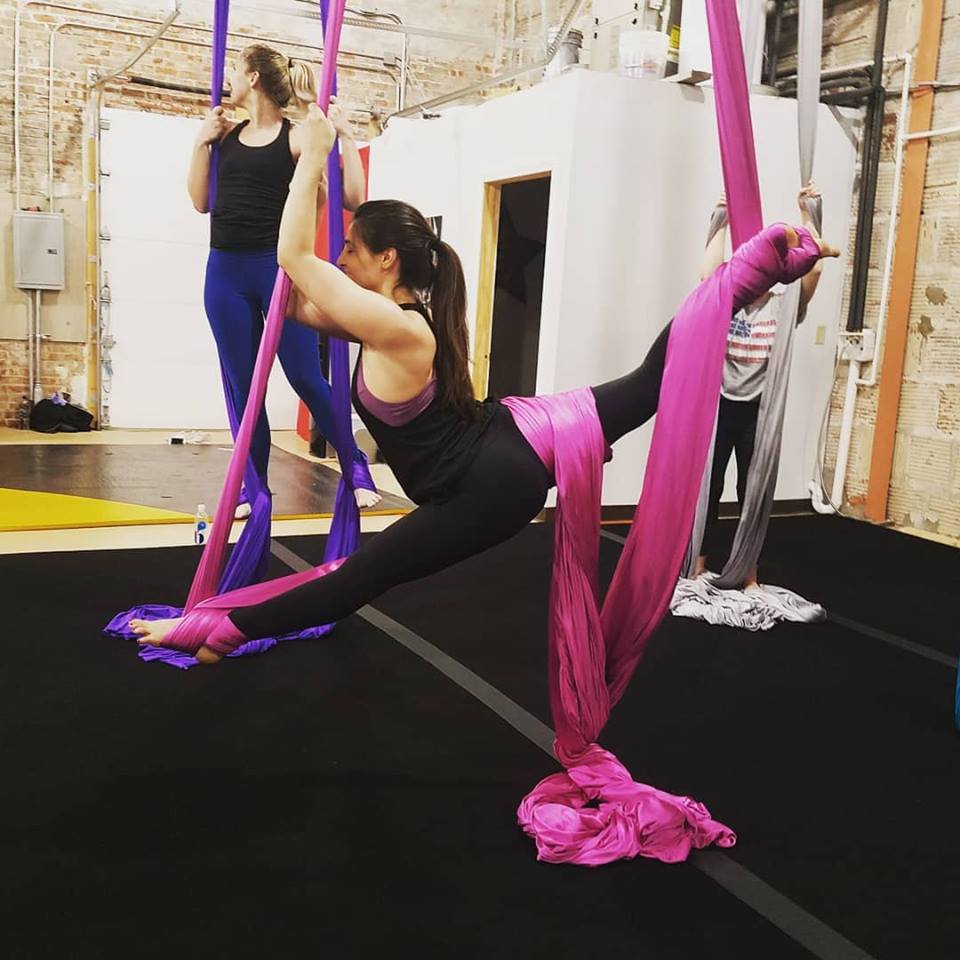 "We have had an entire birthday party of 65 to 70 year old ladies who just had a blast doing this and we do like to encourage people that all shapes, sizes, ages are welcome to do this," Cutler said. "Our instructors are very knowledgeable so we can modify for any level— any skill level, any age."
For more info on Cirque Indy, check out their official website by clicking here or explore more photos and reviews on their Yelp profile. You can also connect with them on social media via Facebook and Instagram.
While in the Mass Ave neighborhood, check out these much loved hidden gems: