This is an archived article and the information in the article may be outdated. Please look at the time stamp on the story to see when it was last updated.
MUNCIE, Ind. — Life rushes by so quickly that many of us can't remember the last time our whole family got together for a sit-down meal around a real dining room table.
However, at By Hand and Fork, located at 1617 N. Wheeling Avenue in Muncie, it feels more like grandma's house than a restaurant. The fireplace is always running; feel-good 50s music plays over the speakers and according to the Yelp reviews, the customer service is always just as warm as the freshly ground coffee.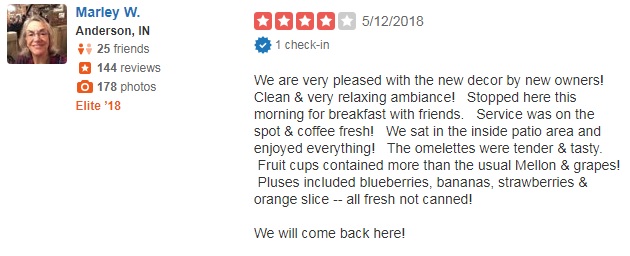 You may recognize the space as the former home of Eva's Pancake House. Now, the space has been transformed.
"A true sign of revitalization is businesses that are coming in and taking old spaces and bringing them back to life, filling in neighborhoods that maybe had open spots for a while," said Brittany Smith of Yelp Indy. "By Hand and Fork is a great example of that."
With a plethora of chain restaurants not only in Muncie, but everywhere, By Hand and Fork is a welcome sight for folks who want to invest in a local business instead of a large corporate chain. It's a family-owned establishment that prides itself on quality from top to bottom.
"We're here every day. As owners we're making sure the quality is there, that the guests are properly taken care of and the service is always on point every time," said co-owner Lorah Pitcock.
Photo credit: Yelp Indy via Gus J.

Photo credit: Yelp Indy via Brittany S

Photo credit: Yelp Indy via Gus J.

Enclosed patio room (Photo credit: By Hand and Fork Facebook page)

Enclosed patio (Photo credit: By Hand and Fork Facebook page)

Daily specials (Photo credit: By Hand and Fork Facebook page)

Peanut Butter Lover's Pancakes (Photo credit: By Hand and Fork Facebook page)

Mimosa (Photo credit: By Hand and Fork Facebook page)

Greek salad with gyro meat (Photo credit: By Hand and Fork Facebook page)

Fresh fruit cup (Photo credit: By Hand and Fork Facebook page)

(Photo credit: By Hand and Fork Facebook page)

Chicken and waffles (Photo credit: By Hand and Fork Facebook page)

Meatloaf and sides (Photo credit: By Hand and Fork Facebook page)

12 oz Prime rib (Photo credit: By Hand and Fork Facebook page)
If you take a moment to scroll through the "About Us" section of their website, you'll see a mission statement spelling out their goal of bringing people together around the table: "We want to be known as the place where you can drop by to feel like you're at your second home."
That's probably one reason so many Ball State students have already started gravitating here not long after opening in early March.
"We are a half-mile from Ball State, so we wanted to be the spot at Ball State that people come to have breakfast, lunch, or bring their family for Family Week," said Pitcock.
As you step inside, the smiling faces and cozy atmosphere make you feel about as close as you can get to coming home. That's one aspect she believes draws students here.
Well, that and a really good mimosa.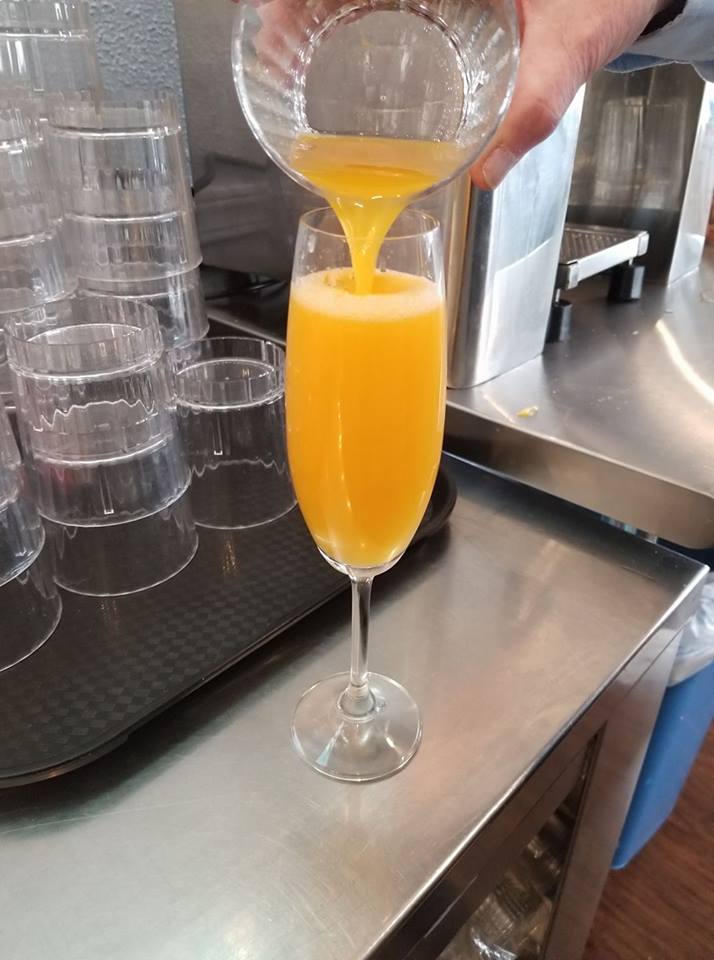 "The fresh squeezed orange juice just sets off that mimosa. I don't think I've had one anywhere else— even in Florida while on vacation— I've never found one that tastes as good as ours," Pitcock said.
By Hand and Fork isn't just a hot spot for Ball State students and student athletes. Even on days like this when school is out, tables are filled with a mix of diners both young and old. They all come with an appetite for some of their favorites like the carrot cake waffle.
"It's a carrot cake batter. You put it in the waffle iron and get it really crispy and do some powdered sugar on top. It is amazing!" explained Pitcock. "We also garnish it with an orange marmalade and strawberry whipped butter. It is so good."
There's also Pitcock's personal favorite: chicken and waffles.
"It's a cornmeal waffle. It has green chile, real corn in it, and then it has the fried chicken tenders. Then we have the orange marmalade and strawberry butter and when you mix the spicy and the sweet— bar none, [it's] my favorite," she said.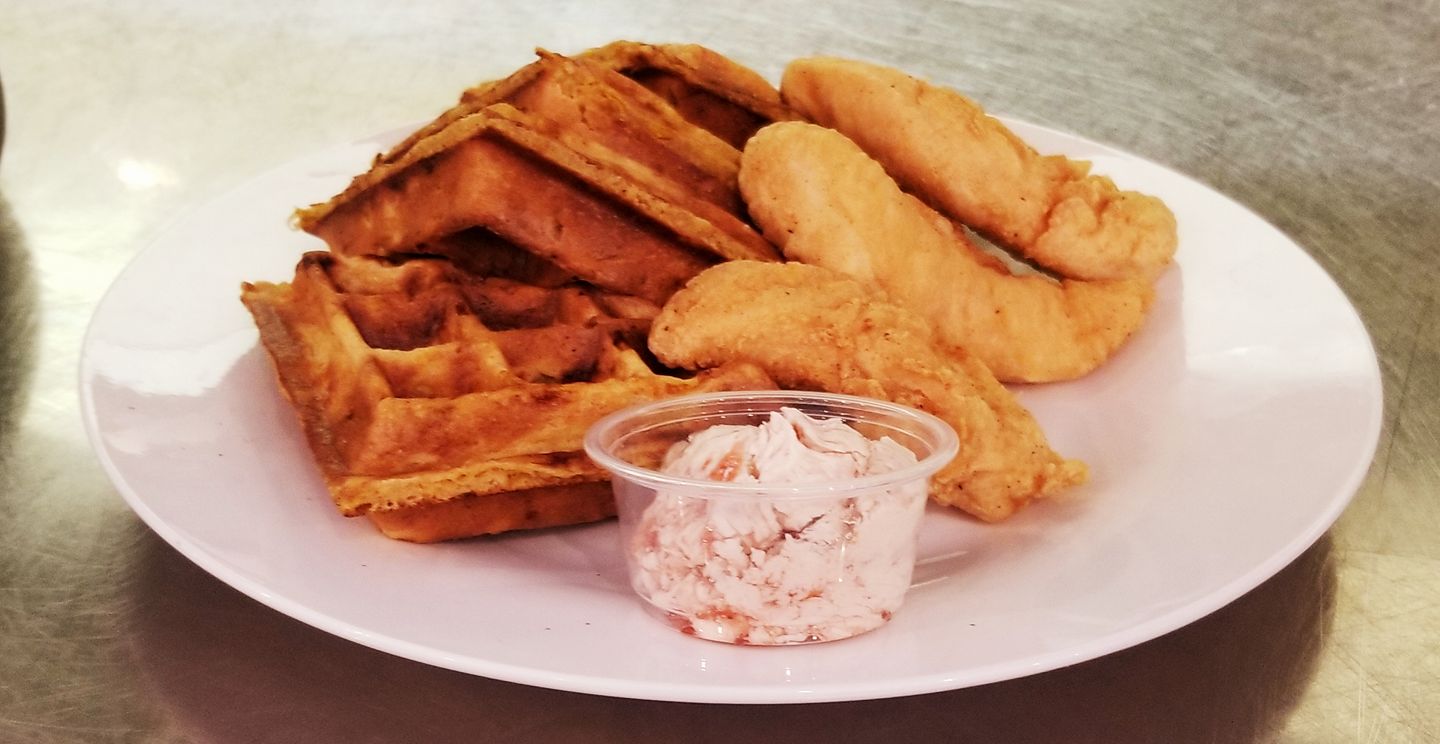 As you scroll through their Yelp reviews, almost all of them highlight the delectable breakfast offerings, but Pitcock says she wants By Hand and Fork to be known as much more than just the go-to breakfast spot.
"We home make everything. Our soups are homemade every day… we have homemade baked meatloaf, homemade stuffed cabbage rolls. So we do a lot here. More than just breakfast," she said.
Their lunch menu includes with everything from salads to steaks, soups and burgers, and even traditional Greek gyros that are as authentic as you can get thanks to co-owner (and Pitcock's fiancé) George Nakis, who stays true to his Greek roots with his recipe.
"A lot of times you go to places and see 'gyro,' but you get a processed meat that's kind of shaved," explained Pitcock. "We actually have the traditional pork gyro meat that's seasoned Greek style with feta and topped with onions, tomatoes. It's just some something you'd get in Greece so it's really an experience to come here and have that."
Everything is top quality and made from scratch, yet easy on the pocketbook thanks to their $6.99 daily specials.
"You can get the cabbage roll or the piece of meatloaf and two sides and dinner bread for $6.99," said Pitcock. "That is such a value you can't even get that at other chain fast food restaurants, so I feel that kind of sets us apart."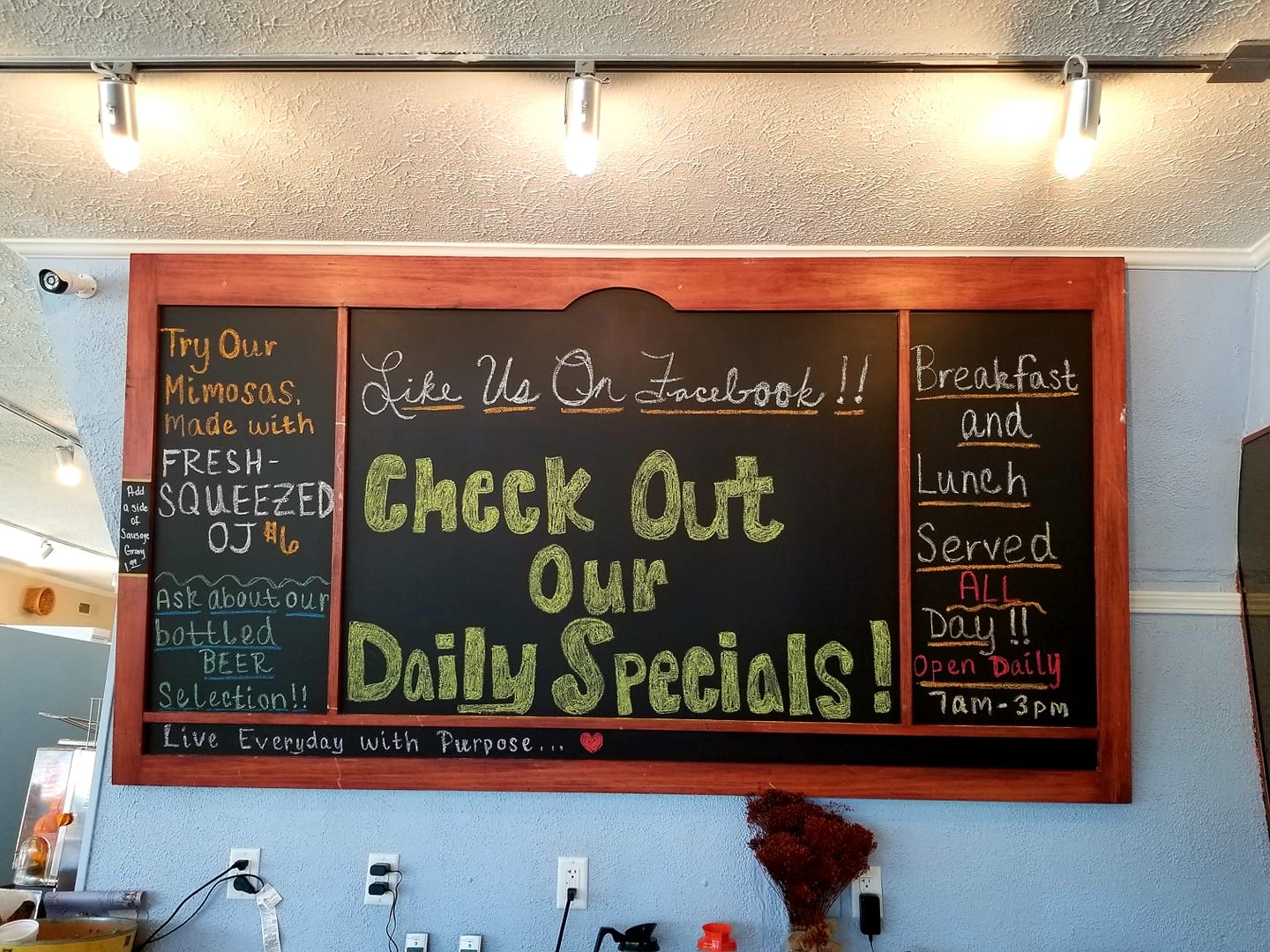 They also offer a 10% student discount for any student who shows their student ID as well as an affordable "senior menu" for guests 55 and older.
"If they're not ordering off the lunch specials, they can go to the senior menu to see if there's something there that we can accommodate for them," she added.
Planning an event or corporate luncheon?  Look no further than their enclosed patio room that will fit over 100 people.
"It's enclosed; it's heated and it has a 75-inch Smart TV. We also have a 100-inch fireplace," Pitcock said. "We've hosted a couple events back there already. It's great for business meetings. We have a couple wedding rehearsals coming here Sunday, so we are pretty excited about that."
But what would be rehearsal dinner be without a toast to the happy couple?
"They have a beer and wine permit so you can have beer and wine at your events," said Smith.
Four Things You Need to Know:
1: By Hand and Fork is family owned and operated. You'll see the owners there every day, making sure the service is top notch, the food is high quality, and all the guests feel as though they are enjoying a meal in an atmosphere that feels like their "home away from home."

2: They are quality-driven. Their orange juice is freshly squeezed, fruit cups are made of truly fresh fruit instead of something out of a can, their meat/steak is USDA Choice and their bacon is top-of-the-line.

3: Everyone loves their breakfast offerings, such as chicken and waffles and carrot cake waffles. But they also offer an expansive lunch menu which includes steak, wings, burgers, salads, soups, beef or turkey Manhattans, wraps, gyros, and even desserts.

4: They are also dedicated to being affordable. Their $6.99 daily specials include an entrée, two sides, and dinner rolls. They also offer an affordable senior menu for guests 55+ and a 10% student discount with student ID.
Whether you're coming in for a big event or a simple breakfast or lunch for two, By Hand and Fork welcomes you in and—just like grandma would—always makes sure you have plenty to eat and welcomes you to sit back and relax for a while.
"People love that they can come in and not feel rushed," Smith said. "They can hang around and there's a casual atmosphere. It's not one of those places where you feel like they're just trying to turn your table and you can really enjoy your meal."
For more info on By Hand and Fork, check out their website by clicking here or explore more photos and reviews on their Yelp profile. You can also connect with the business on social media via Facebook.
While in Muncie, check out some of the other top-rated restaurants nearby: