This is an archived article and the information in the article may be outdated. Please look at the time stamp on the story to see when it was last updated.
INDIANAPOLIS, Ind. — Axe throwing might be the coolest sport you've never heard of.
That is, until now.
Luckily, thanks to the world's biggest urban axe throwing club—Bad Axe Throwing—this favorite Canadian backyard pastime has found a home in the heart of downtown.
Bad Axe Throwing's Indianapolis location (located at 235 S. Meridian Street) opened in June 2017 and is one of 22 Bad Axe Throwing locations across the United States and Canada.
Axe throwing has become a flourishing organized sport, complete with its own league (the World Axe Thowing League) and World Axe Throwing Championship, which will be televised on ESPN and basically serves as the urban axe throwing equivalent of the Super Bowl.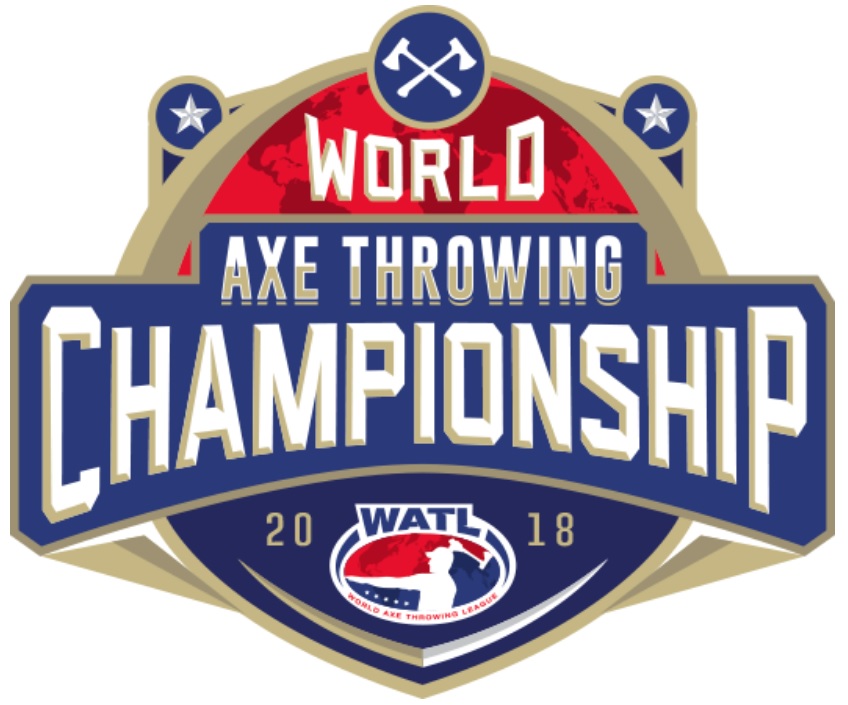 But this emerging sport isn't just for lumberjacks.
"My first day was the first day I threw an axe, just like folks who come here," said Kjai Block. "So you pick it up pretty quickly."
Now, Block is an Axe Master at Bad Axe Throwing, where he can show you how to throw an axe, whether it's overhanded, one handed, two axes at once, trick shots or anything in between.
After you sign a waiver, of course.
Then, it's time to learn step-by-step how to properly throw an axe.
Credit: Yelp Indy via Nikki G.

Credit: Yelp Indy via Bad Axe Throwing

Credit: Yelp Indy via Chrissy A.

Credit: Yelp Indy via Bad Axe Throwing

Credit: Yelp Indy via Sanmit B.

Credit: Yelp Indy via Linzee W.

Credit: Yelp Indy via Nikki G.

Credit: Yelp Indy via Chrissy A.

Credit: Yelp Indy via Jennifer G.

Credit: Yelp Indy via Chrissy A.

Bad Axe Throwing logo

Credit: Yelp Indy via Bad Axe Throwing

World Axe Throwing League logo
"Overhead is important," he said. "It's only going to go around one time and the goal is to be nice and loose on the backswing and use your body as leverage so when you're coming forward you're just letting go of the axe and letting it do all the work for you."
It might take a couple tries to get the hang of it, but Block says anyone can be a Bad Axe Thrower.
"I've thrown with 81-year-old grandmas who put their grandchildren to shame. I've thrown with 10-year-olds for a birthday party, bachelorette parties, bachelor parties, we've done it all," he said.
And according to Block, the beauty of being located in the heart of downtown Indy is that the variety of people who walk through their door, from Lilly employees to firefighters in town for FDIC, sports fans and beyond.
"That's kind of the cool part of where we are, especially here in Indy as just kind of an amalgamation of a lot of different folks. It's very eclectic and I can't say any day is the same. It's pretty cool," he said.
Four Things You Need to Know About Bad Axe Throwing:
Bad Axe Throwing was started by CEO Mario Zelaya, in hopes of bringing the thrill of a traditional Canadian backyard pastime to urban communities. The first Bad Axe Throwing location opened in 2014 in Burlington, Ontario. Today, there are 22 Bad Axe Throwing locations in the United States and Canada.
Walk-ins are $20 per person, per hour. But Block says the easiest way to visit Bad Axe Throwing (especially if you are planning to come with a group or for a special event), is to go online and book a reservation.
Bad Axe Throwing's Indy location now serves a large selection of beer and wine, including local craft beer. And yes, beer and throwing sharp axes may sound like an unlikely combo, but according to Axe Master Kjai Block, "[It] offers people a different opportunity here to enjoy themselves and have a good time. We just of course want to do it within reason and make sure everyone is safe and that's what the coaches are here for and what they're good at."
They're also dropping hints on social media about an upcoming second Indianapolis location. The new location will feature 10 lanes, effectively making it the largest axe throwing venue in the city.
Walk-ins are $20 an hour per person, but Block says the easiest method is reserving online, especially if you have a group.
"We have five lanes and you can think of about 21 people per lane depends on each lane is a little bit different sizes," Block said. "On a busy Saturday, we'll have quite a few people in here throwing all at the same time. It gets very loud, very fun."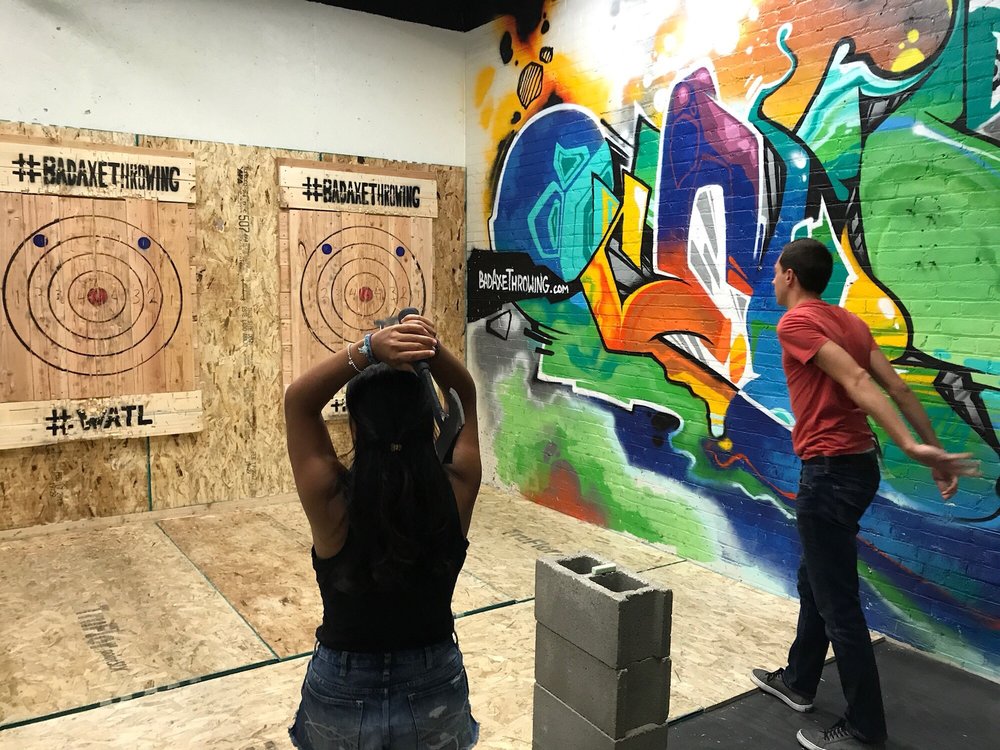 Once you have the basics down, the real fun begins.
"We start playing games, we get competitive, hype them up. There are many different games we play," Block said.
If you want to take your newfound love of axe throwing a step further, you can even join the axe throwing league.
"Each location has their own regional tournament that leads to this big winter world championship… In that, there are 90 affiliates across the world who participate," he explained. "They are going to come in and kind of congregate December 15th in Chicago for the big World Tournament."
But don't worry; you don't need to be the Andrew Luck of axe throwing to join the local league.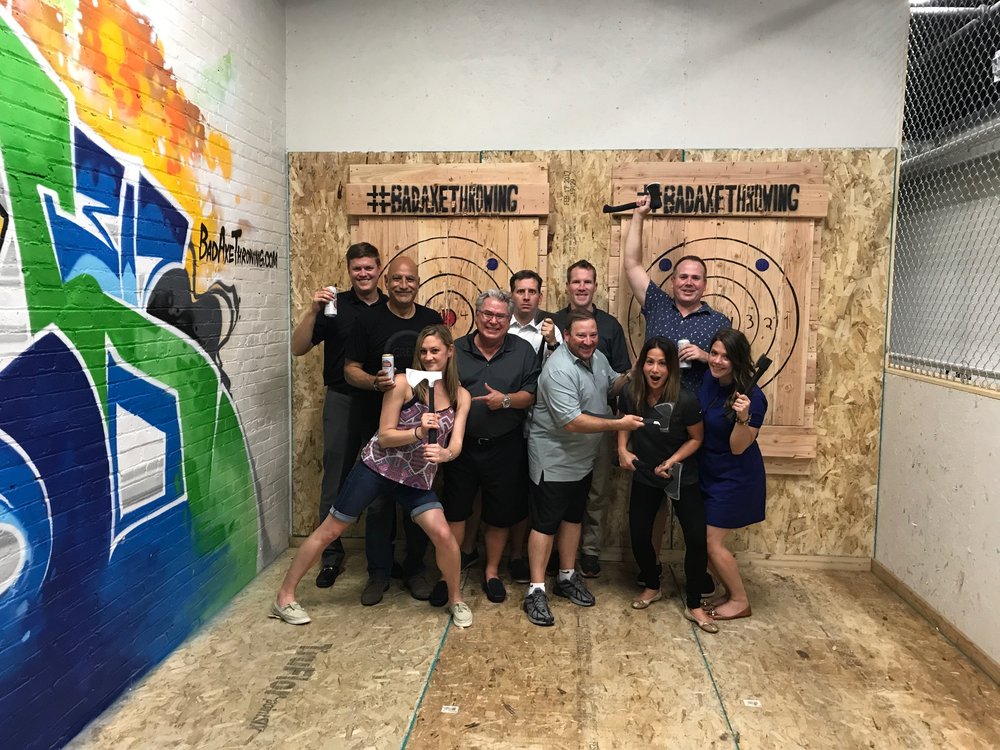 "All the leaguers are just here to have fun, interact, teach each other how to throw and get better. It's competitive but it's more about community and throwing axes together," he said. "We have folks who have never thrown an axe that have joined the league."
For more information about Bad Axe Throwing, check out their website by clicking here. To see more photos and reviews by local Yelpers, check out their Yelp profile. You can also connect with them via Facebook, Instagram and Twitter.
While in the area, check out some of downtown's most popular local hot spots for group outings: