EIN Presswire | Newsmatics
The Supply Chain Heads of Bio-Pharma Deliver a Clarion Call at the 2023 BSMA Summit in the Post-Covid-19 World
News provided by
EIN Presswire
Mar 29, 2023, 7:25 PM ET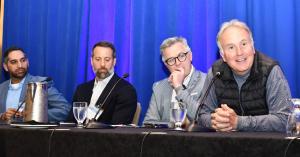 Left to Right: Khalid Shah (Exelixis), Chris Bogart (Bayer), Stuart Poll (illumina) and Tim Moore (Formerly Kite)
Top executives of supply chain management & technical operations from Bayer, Exelixis, Illumina & Kite, sat on an industry panel at the BSMA's March Summit
FOSTER CITY, CALIFORNIA, USA, March 29, 2023/
EINPresswire.com
/ -- Top executives of supply chain management and technical operations from Bayer, Exelixis, Illumina, and Kite, came together on an industry panel at the 15th Annual Conference on March 8-9 in Foster City, California. Devendra Mishra, Executive Director of
BSMA
, moderated the hour-long session titled "SCM 360◦ Tapping into the Intrinsic Power of SCM For Breakthroughs".
Highlights
of the Deliberations
The COVID-19 Pandemic brought about an unprecedented spirit of collaboration, reminding us that necessity is the mother of invention. The executives described how they sought and received inventory of filters, bags, pipettes, and other critical products from competitors through their personal relationships when they were out of stock.
Chris Bogart, Vice President, Supply Chain Management, Bayer
Enterprise risk management was elevated as a strategic SCM matter and we challenged ourselves to be prepared for the next big disruption of another pandemic, a global conflict, or something else. Integrated supply chain and business modeling thinking have surfaced.
In the landscape of tier 1, 2, and 3 suppliers, where the relationship is good for tier 1 suppliers but inadequate for the rest. Relationship in the disposable goods space requires better integration with suppliers in a balanced manner.
Open collaboration with common missions across the board in non-competitive areas of business will accelerate medical science and healthcare. Open source development of IT platforms is a suggestion for it delivers results better, faster, and cheaper.
Stuart Poll, Vice President, Supply Chain, Illumina
At Illumina, where we first sequenced the COVID-19 virus genome and give the data for development of vaccines, digitization has been critical in supply chain. Working with problem solutions in a creative manner facilitated advanced analytics.
While I had POS information in my former industry of CPG, here in Life Sciences we have consumer-centricity for sequencers built by Illumina. Getting intelligence for business planning in a regulated environment is a challenge.
We have learned to look after our people who do the work. In addition to inspiring them to come to work, we must always protect them. We are determined to make things simple for people because they are too complicated. Sooner than later, silos between clinical operations, manufacturing and transportation have to be eliminated.
Tim Moore, Former President/COO, Instill Bio & PACT Pharma, CTO, Kite Pharma
In Cell and Gene Therapy, where a patient is a production batch of one, the burden on hospitals during the pandemic was so onerous that patients seeking cell and gene suffered delay because apheresis was not available in a timely manner. Blood samples of patients scheduled for treatment were not processed through apheresis centers. Furthermore, kitting for apheresis required greater clarity. On the other hand, the FDA extended expiration dates of media used in the therapy and Dr. Peter Marks, Director of CBER, was a passionate advocate of innovation for a speedy resolution. With the demise of Vinetti, data management became a Herculean task.
We are servant leaders of the people we empower. We at Kite worked with Juno, Novartis and others to come up with solutions. In Germany there are at least 10 different parts that stifle progress. We must find ways for a global playing field that has fewer regulatory boundaries, in the face of political, environmental, cultural differences.
Khalid Shah, SVP, Pharmaceutical & Biologics Ops, Manufacturing and Supply Chain, Exelixis
At Exelixis, one starts from scratch in the clinical operation and so having a supply chain is a non-starter. We must react to demands that are unpredictable, making Phase I trial study incredibly challenging. All locations of a study have to be looked through a holistic lens. We must invest in the infrastructure. The business of transitioning from centralized teams for clinical trials to commercialization is in its infancy. Commercial supply chain is complicated but more predictable where demand is known relatively well. We hedge our bets with huge inventory based on a two-year rolling demand forecast.
Packaging, where patients fail to read instruction on the label because of their diminutive size, could use the QR code. Over-packaging for cold chain is another area for industry collaboration as well as getting visibility in the upstream and downstream supply chain. There are also relevant questions for the FDA to help answer.
Audience
John Bermudez, Vice President, Product Marketing, TraceLink, suggested that companies make it possible for suppliers and service providers to access points of contact for their critical queries. He observed, "Who do you talk to in any enterprise with 27,000 names with11,255 titles? Supply Chain Executive may be the most discernible."
Andrew Setikas, Global Head of Life Sciences, Teradata, observed that "BSMA has proved to be a useful platform to meet the right people, get the right preliminary information and pursue collaboration."
Dotti Yells
Bio Supply Management Alliance
dotti@biosupplyalliance.com
Visit us on social media:
Twitter
LinkedIn
NOTE: This content is not written by or endorsed by "WTTV", its advertisers, or Nexstar Media Inc.
For inquiries or corrections to Press Releases, please reach out to EIN Presswire.