EIN Presswire | Newsmatics
Empowering Relationships, Enhancing Self in 'Souls from Mercury'
News provided by
EIN Presswire
Mar 29, 2023, 5:06 PM ET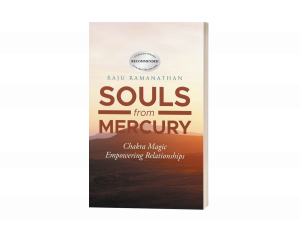 Author Raju Ramanathan Uncovers Chakra Magic in a Life-Altering Masterpiece
YORBA LINDA, CALIFORNIA, UNITED STATES, March 29, 2023/
EINPresswire.com
/ -- In this time of the pandemic, one thing is common among people regardless of economic status – anxiety and mental instability. We are all dealing with so many problems compared to the generations before us – that even technology, which is supposed to help mankind, has added more insecurity, anxiety, and relational instability rather than overall ease of life.
The book "Souls from Mercury: Chakra Magic: Empowering Relationships" aims to turn things around for readers across the globe by providing advice and mindfulness tips through Chakra.
Chakras provide subtle energy that helps your organs, mind, and intellect work at their best level.
Author Raju Ramanathan starts the book by explaining Charles Darwin's theory, as he pointed out that the future evolution of mankind cannot happen through the continuation of the "survival of the fittest" ideology. It lies in the courage to stand up as the first animal did and move in a vertical dimension, whereas developing kindness, compassion, and empathy are the hallmark of evolution and truly an inward revolution.
"This goal can be achieved by delving deeper into ourselves through the simple process of meditation and mindfulness. In this book, you will learn the pathway to your inner vastness (i.e., Samadhi, Enlightenment, or the "Mercury space") and gain answers to becoming 'Souls From Mercury,'" Ramanathan states.
As a spiritual mentor to people in the West for over forty years, Ramanathan feels this generation's sorrows and understands the people's various questions and quests. "I am here to share a new possibility of going beyond them and into your true light," he says.
In the book, Ramanthan covered a framework of the seven Chakras (associated with the endocrine glands) to address the very root cause of our current day problems such as stress and anxiety; and point to solutions through the purification of Chakras and other forms of meditation and prayer.
Author Raju Ramanathan is a descendant of notable priests and poets from India. He is a scientist who worked on projects related to NASA space missions and has developed a unique synthesis and a common ground between meditation systems and modern science.
"Latest developments in Neuroscience and Energy Medicine enhance this approach including the works of Dr. Joe Dispenza and Dr. Carolyn Myss," Ramanathan said.
Grab "Souls from Mercury: Chakra Magic: Empowering Relationships" through
Amazon
and other digital platforms worldwide.
About Inks & Bindings:
Launching brilliant stars into the spotlight! Inks & Bindings is set to broaden horizons, revamp to perfection, and produce a masterpiece through the power of books.
Inks and Bindings
is a premier self-publishing company located at the heart of the Golden State. Aptly based where fashion, entertainment, and culture thrive, the team goes all out in bringing independent authors into the sweet California spotlight.
JORELOU GABATO
Inks & Bindings
+1 (714) 352-4422
email us here
Visit us on social media:
Facebook
Twitter
YouTube
Other
NOTE: This content is not written by or endorsed by "WTTV", its advertisers, or Nexstar Media Inc.
For inquiries or corrections to Press Releases, please reach out to EIN Presswire.