Nissan on Monday unveiled an electric SUV concept aimed at the Chinese market.
Revealed at the 2023 Shanghai Auto Show, the Nissan Arizon concept was designed by a Chinese team "to serve as a multifunctional partner for China's drivers," according to a press release from the automaker.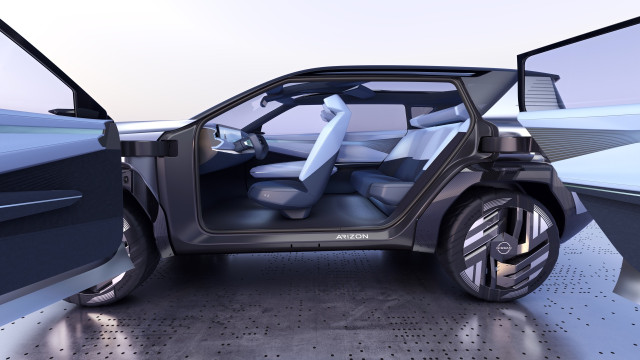 Nissan Arizon concept
It's built on the global CMF-EV platform, though, so it may be as simple as a reskin or redesign using Ariya underpinnings and Nissan's e-4orce AWD system, but previewing a production model for the Chinese market. That platform is already due to be shared with upcoming EVs from Nissan's partner brands Infiniti, Renault, and Mitsubishi in multiple markets, with Renault already selling the Megan E-Tech Electric in Europe.
Indeed, most of the distinguishing features of the Arizon concept are tech-related, not mechanical. It has a "virtual personal assistant" called Eporo that can relay information such as weather forecasts "in a human-like manner," according to Nissan. The concept also features adaptive ambient lighting, with different modes including "leisure, relax, sleep, and surprise."
Nissan Arizon concept
Nissan also showed the Max-Out in Shanghai, which is a concept originally revealed (in rendering) in 2021—and may hint at an upcoming electric sports car. When it first showed the Max-Out, Nissan said it was aiming to launch 15 EVs by 2030, and have production-ready solid-state batteries by 2028, as part of a plan called Nissan Ambition 2030.
Nissan recently accelerated its EV plan for Europe and Japan, but not the U.S. It does have several U.S.-built EVs due from Mississippi in 2025, with the Ariya and Leaf likely remaining as its only EVs for this market until then.
Related Articles